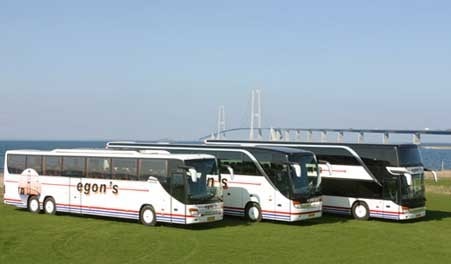 Egons Tourist- & Mini Busses
…and conference services
Egon´s Turist- & Mini Busser is one of the largest passenger transport operators in the region, so if you need to get around - whether you take part in teambuilding, stag/hens party, or you're a big or small family - Egon's can accommodate your wishes. We can custom-tailor a solution to fit every need, as our fleet counts 54 modern three- and four-starred coaches, that can accommodate groups from nine to 72 people. We also offer disability transport and ambulance services, special services, as well as corporate and tourist services. You can even book a five-starred conference coach equipped with a sofa arrangement, tables, kitchen, air condition, video, and toilet. Or how about a VIP exclusive coach with every modern feature imaginable for a luxurious coach ride? After having tried it, it will become quite hard to go back to using public transport.
Disability transport services
Egon's Busser has several years' experience with disability transport services. Our minibuses are equipped with all necessary equipment such as lifts and special belts for fastening wheelchairs. They have room for 16 passengers with or without lift, and the majority of the minibuses are equipped with air conditioning. Tables can be mounted in the buses according to your wishes, and stairways can be brought to give people with disabilities more freedom of movement.
From tourist coaches to conference coaches
Whether you are few or many, we can tailor our transport services to fit your specific needs. Our luxury minibus can seat 12 passengers and is furnished with leather chairs and tables, while the five-starred conference coaches each have a sofa arrangement, tables, kitchen, air conditioning, video, toilet, and whatever you might also need.