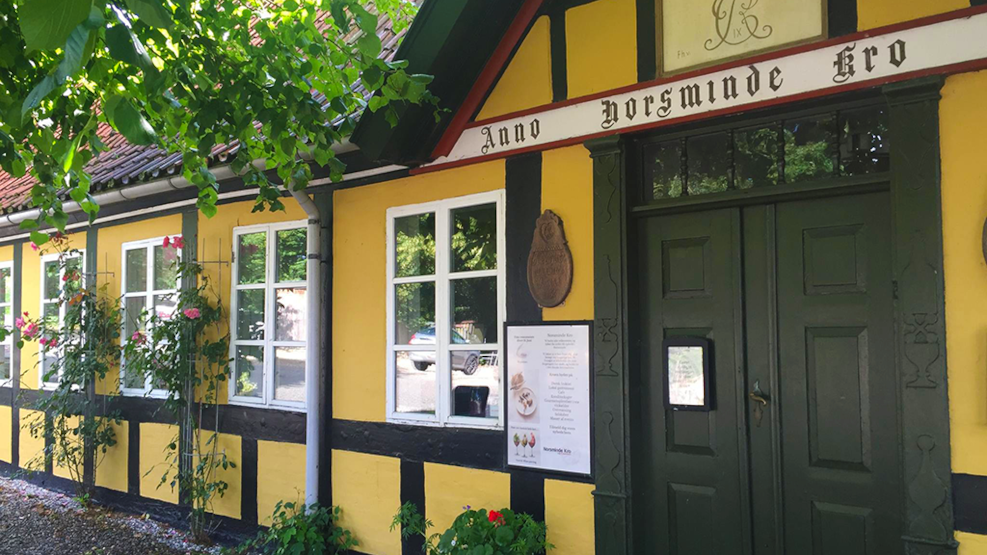 Norsminde Kro
Treat yourself to a stay at this historic inn from 1693. Located down to one of the cosiest harbours in East Jutland with high-level gastronomy, you will undoubtedly have a fantastic experience when you check in at this charming old inn.
Stay by the coast in an historic setting
Norsminde Kro has been the heart of the small charming harbour town for centuries, where it teems with life every summer, and you feel the presence of history as you arrive at the beautiful old yellow inn.
The inn has 24 spacious rooms on three levels, where most overlook Norsminde Fjord. The rooms have modern décor but with respect to the history of the place. You will find various items from the long history of the place in the totally renovated rooms.
There are also 5 additional bed & breakfast rooms in the inn's oldest wing. These original rooms are newly restored and decorated in bright maritime colours. The old rooms are called Norsminde Anex & Bade-Lodgi, they are inspired by seaside hotels, and they have their own bathroom and toilet.
High-level gastronomic experiences
Norsminde Kro has two restaurants. At Restaurant Près you can have incredible gourmet experiences as the chefs dazzle with their high technical skills resulting in creative and tasteful dishes.
For a more casual dining experience, visit the brasserie, which offers delicious a la carte dishes in inviting and evocative surroundings. You can eat on the large terrace during the summer period and there is always a great atmosphere here.
The perfect choice for any wine connoisseur
The inn is also a mecca for wine lovers and the inn's wine cellar is definitely worth a visit. The inn has an extensive wine list with hundreds of wines to choose from. You also have the option of buying the self-imported wines at excellent prices in the wine shop or in the cosy rear courtyard.
The beautiful surroundings
The small harbour town of Norsminde has a charming, maritime atmosphere. At the small marina located right by the inn, there is always life and activity during the summer months, and a stone's throw from there you will find one of the area's best sandy beaches. It is not far to Aarhus and Odder from Norsminde, and the many beautiful seaside beaches on the Odder coast.
Book your stay
Norsminde Kro has various types of stays, combining accommodation in the beautiful pleasant rooms with dining experiences in the inn's restaurants. Get more information and book your stay on the inn's website.