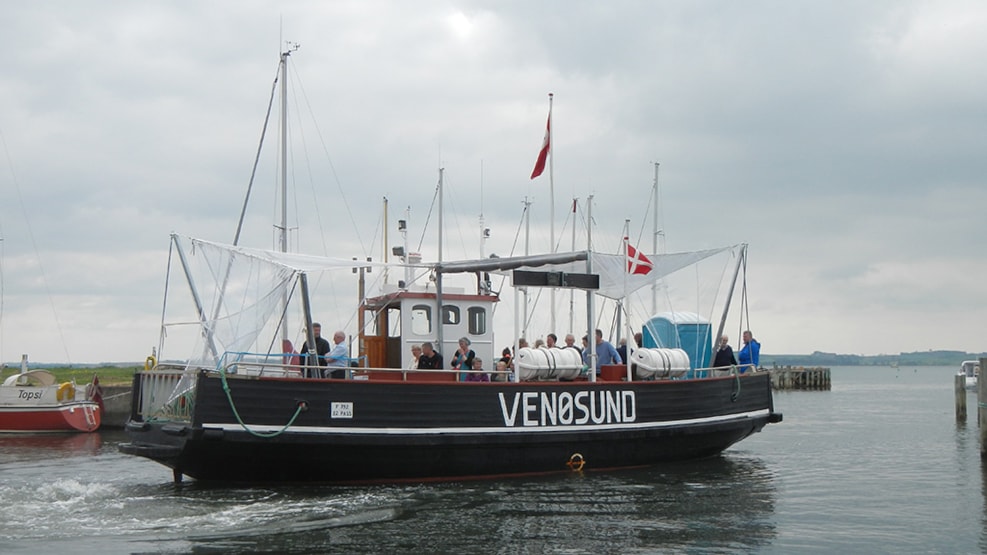 Sound Art and Oysters in World Class - Struer Tracks VIP tour
Sound art and oysters in world-class – Struer Tracks VIP tour
Join the VIP tour where you get to experience the "behind the scenes" at the international sound art festival Struer Tracks. Get an exclusive trip to Venø where you can sample the world-famous Limfjord sisters at Venø Seafood, which is served at several of the country's top Michelin restaurants . Not only that, cause the trip continues to Venø Kro where a sumptuous seafood dish is served with everything the heart desires.


Program:
* With the exception of the meeting time, the times indicate the approximated times, as the weather can cause possible delays on the ferry
9am: Meeting time at Struer Harbor (by the Amplified Views sculpture)
Welcome to Struer Tracks, which tells about the sound art installations at the harbor.
10am: Departure from Struer Harbor
Departure to Venø by Denmark's oldest car ferry, Venøsund. The sailor on board will tell some local stories along the way about the waters and the boat.
11am: Arrival at Venø Harbor
Transport by bus to Venø Seafood, where there will be a tour with the oyster king Kristian Borbjerggaard.
12.30pm: Shellfish plate at Venø Kro
Bus to Venø Kro, where a delicious seafood plate is served before the ferry returns to Struer.
2pm: Return to Struer by ferry, Venøsund.


Included in the experience:
Story about the sound art installations at Struer Harbor
Ferry trip to and back from Venø with the small ferry Venøsund
Sailor stories on board the ferry
Bus transport on Venø
Guided tour of Venø Seafood by director Kristian Borbjerggaard
Seafood dish at Venø Kro


Practical information:
Maximum 20 participants
The trip is completed with a minimum of 10 participants
Gotour is a member of the Travel Guarantee Fund, which means that you get all the money back in case your trip is canceled due to Corona.
The trip will be held on the following dates: August 27 and September 3
Duration: Approx. 5 hours
Feel free to bring a windbreaker or jacket for the ferry trip.


Information:
For more information:
Go Tours: Sound Art and Oysters in World Class - Struer Tracks VIP tour
Or contact Struer-Egnens Turistforening directly:
Tel .: +45 21 68 99 25
Mail: clp@struer.dk 
Web: Struer-Egnens Turistforening