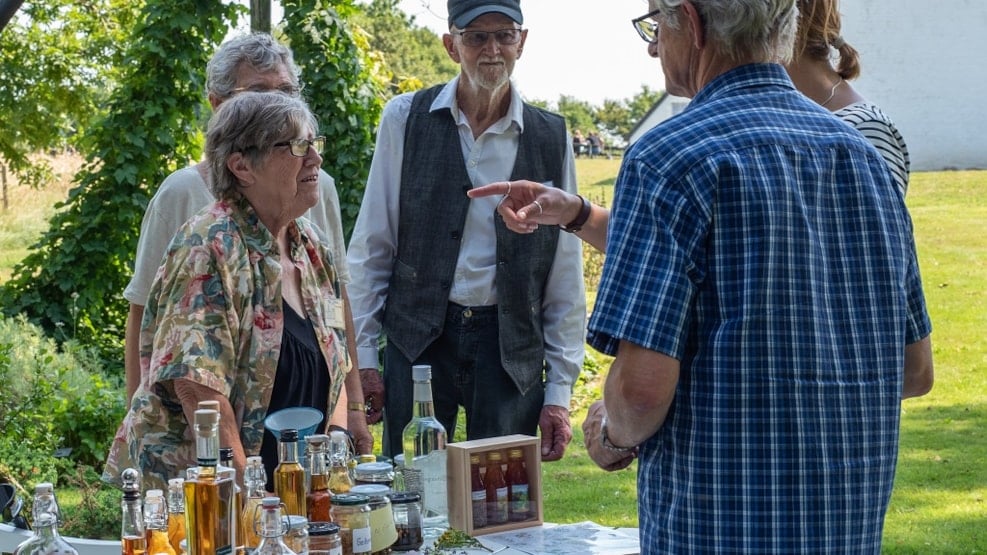 The aquavit guild at Herregården Hessel
The aquavit guild from Herregården Hessel is a team of inspiring and passionate people who live and breathe for herbs, berries and aquavit. You can meet them and get a taste at various events or at activities at Herregården Hessel, where they are always ready for a chat about aquavit.
The members of the aquavit guild at Herregården Hessel are people who love aquavit which is made of different herbs and loves to make it themselves – from growing the herbs to collecting them and brewing the aquavit and finally, to handing out the aquavit for other people to taste.
Every year the guild is hosting events and are participating in events like the Veteran Tractor Rally in Haubro, Asmild Plantecenter in Viborg, the cattle show in Løgstør, Aars and Hjørring, the mussels festival in Løgstør, Hot Summer and Christmas By Night in Farsø, etc.
Besides this, the aquavit guild also attends the events at Herregården Hessel: Harvest Say and Manor Day in August, Fallday in september as well as Christmas on Hessel in November. In addition to this, the guild is also taking care of the herb garden at Herregården Hessel.
Aquavit Day at Herregården Hessel
Come and join aquavit day 7/15 from 12-4pm. Here you can try all kinds of aquavit, including Johs. V. Bjesk, which is a tribute to the author Johannes V. Jensen, with a taste of wormwood, juniper and quince. When hunger strikes, the aquavit guild dishes out tartlets and lots of exciting stories about herb aquavit.
With full stomachs, you set off on a foraging trip in the beautiful nature of Louns, where you will learn more about aquavit herbs.
The price for all the glory is DKK 160 per person. Tickets can be purchased here.
Private lecture
Do you want a private aquavit lecture in connection with an event? So don't hesitate to contact Bodil at bodilnymark@gmail.com or by phone +45 30 23 89 22. The lecture can take place at Herregården Hessel, in your own home, or in a completely third place. At Herregården Hessel, the lecture can be combined with a trip to the herb garden.