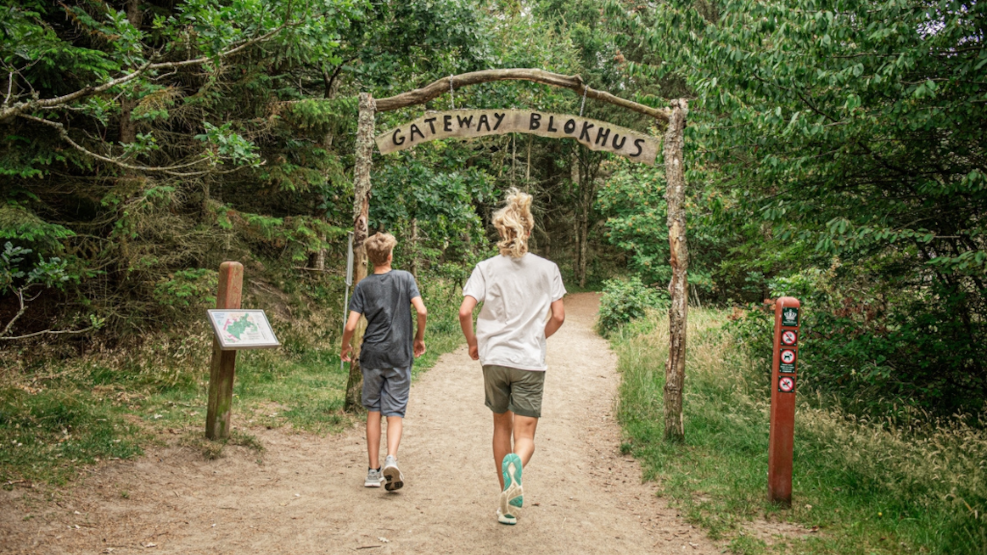 Blokhus GateWay - Blokhus Klitplantage
In the open space you will find a nature playground, room for activities, picnics and barbecues - and a nature oven for baking your own bread.
The Gateway space is the jumping-off point for several exciting hikes and cycle rides, and not far away there is quite a new mountainbike route. At the space, you may always jump onto the fitness route with fitness apparatuses or continue to the race course and test your fitness.
Close to the open space you will find shelters and camping sites for staying the night. Not far away, you can hire a bike for a fine day in the wood.
The nearest public toilet is situated at Aalborgvej, 200 metres north of the space.
The Blokhus dune plantation covers 642 hectares. Most of it is wooded.
The Blokhus dune plantation has been planted from 1895-1910.
Only a little of the original vegetation of mountain pines is found in the western part of the plantation.
The plantation varies from the hilly Kirkesande to flat dune moorland in the southern part of the plantation, from quite luxuriant forest areas in the north and east to only metre-high mountain pines farthest away towards west.
When the plantation was planted Blokhus was just a plain fishing village. Today, when Blokhus is swarming with tourists, the plantation serves as a place, where you can experience nature and solitude, accompanied by the roaring sea and the whistling wind in the trees.
Hikes in the state forests
Blokhus dune plantation is no. 78 in the series of hike folders, and you may also have it in a printed version. You can find them at the local libraries and tourist offices.