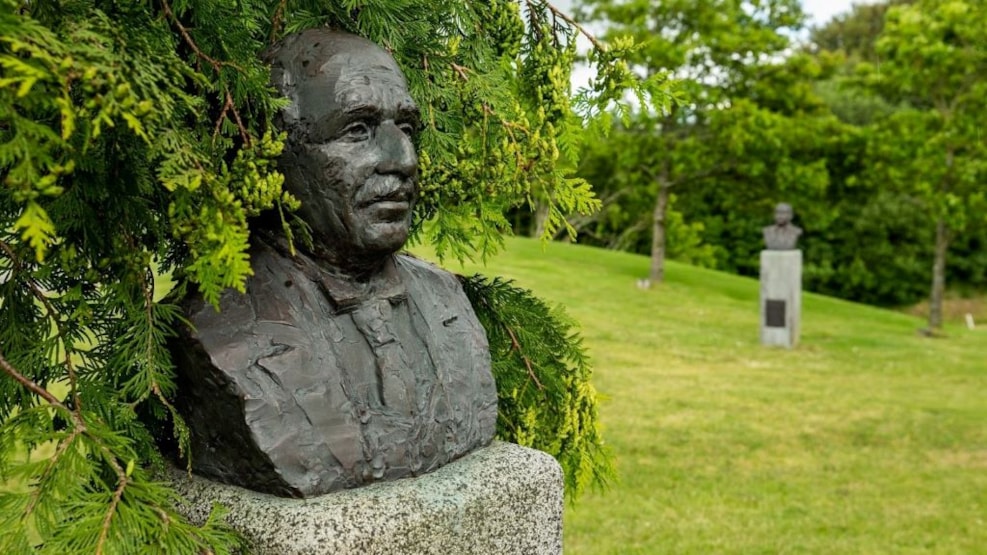 The bust of Max Henius
The Danish-American Max Henius (1859-1935) was a driving force in the creation of Rebild National Park in 1912.
His father emigrated from Poland to Aalborg, where he built De Danske Spritfabrikker, famous for their snaps. In 1881, Max Henius immigrated to the US, and settled in Chicago. 
Max Henius participated in the founding general meeting of Rebild Selskabet, an organization promoting friendship and good relations between Denmark and the US. The organization bought the area that is known as Rebild Bakker National Park today, with the purpose of gathering Danish-Americans, their family and friends. Every year this area creates the backdrop for the 'Rebild celebration' a 4th of July celebration.  
The first celebration happened in 1912, where King Christian the 10th participated, along with 10.000 others. The deed to the area was given to the Danish state as a symbol of friendship, with the condition that it would be possible to celebrate 4th of July every year in the hills.  
His summer cottage was located in Rebild Hills, which was, in accordance with his testament, demolished after his death.
The bust of Max Henius was created by the artist Carla M. Christensen in 1937, and was located were the summer cottage once were placed in the valley.
Since then, a new bust have been created which has been placed by the entrance at National Park Rebild Bakker at the Friendship Lawn. The artist is Dennis Smith.