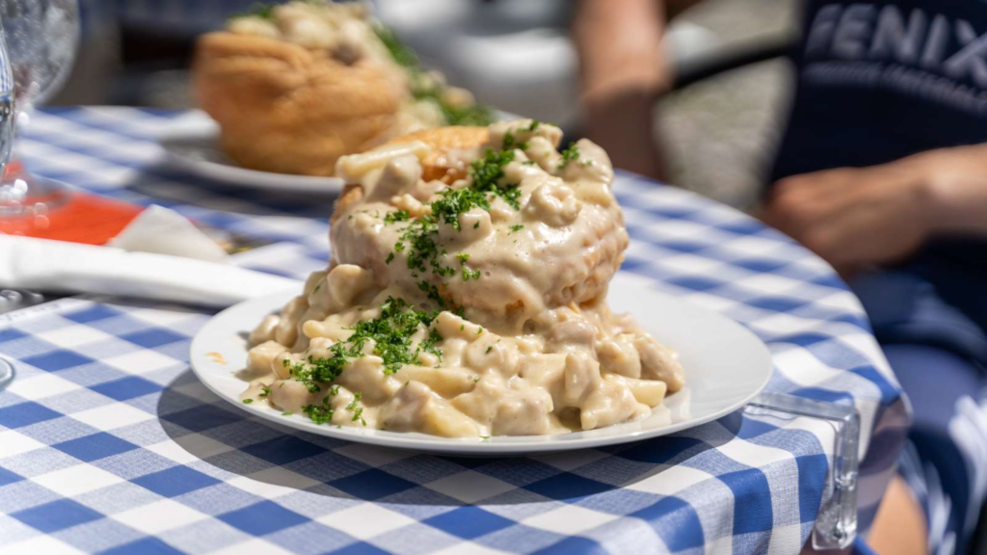 Café Alrø
Every year lots of people go to the island of Alrø to taste the famous giant patty shells. The patty shells are actually so famous, that they are even more popular then the wonderful island where you find the cafe. The shells are popular with good reason. Here, delicious food is combined with great service, quirky details and beautiful nature. 
Come and taste the famous patty shells
Café Alrø make patty shells that will make your taste buds dance. One patty shell is enough to fill your plate - it is a whopper of 300 grams. Most guests choose the classic Danish patty shell with chicken and asparagus, but you can also try the version with salmon mousse and shrimps or the delicious vegetarian shell. You are of course welcome to eat more than one. The record is 5 - can you beat that?
The simple menu offers well-known Danish dishes that are well cooked. The patty shells are the main attraction but you can also try the appetizing cheese board. Children can order a hot dog. Befor you go home, order a home-made dessert or a cup of freshly brewed coffee. 
The café is based on a passion for home-made food, fresh ingredients and great hostmanship. Café Alrø is the place where you feel home and where there is always time for a chat with the owners Hanne and Lene. The café is their heart and soul and they will ensure that you experience a cosy atmosphere that you will not forget any time soon. 
Located in beautiful nature
You can enjoy your food inside in the cosy café, outside on the patio or in one of the snug corners in the courtyard where you will feel the fresh breeze from the fjord caressing your face. From here you will sense the scenically beautiful surroundings of the farm Lille Lykkegård while you enjoy your meal. 
Visit Café Alrø on a lovely spring day when the larks are singing and the new-sown fields are shining with the sun. In the summertime you can watch the ferries and sailboats that pass by on the fjord. 
Witness the peculiar art
At Café Alrø you can witness art both inside and outside. Scattered around the area you can see curious, creative and colourful artwork. The many remarkable paintings and installations will undoubtedly make you smile and give you something to think about. The art is created with a humorous twinkle in the eye. 
Stay a little longer and play a game of crolf
Café Alrø has its own crolf-course. Crolf is a great mix of golf and croquet. A cosy family game and a great activity for all. The price for a game of crolf is 25 DKK per person, but you get FREE crolf if you order both patty shell and dessert. 
Remember to book in advance
 Café Alrø is often fully booked, so we recommend that you book a table in advance so you do not travel to Alrø in vain. On the café's calendar you can see if there are available tables. 
How do I get to Alrø?
Even though Alrø is an island it is possible to go there without a ferry ride. Alrø is connected to the mainland via a dam on the north side of Horsens Fjord. 
If you travel to Alrø by bike or on foot, you can take the little bicycle ferry to the nearby island Hjarnø and experience two islands in one day. 
Learn more about Alrø
Alrø is a lovely and idyllic island. You can find inspiration for your visit to Alrø on this page.