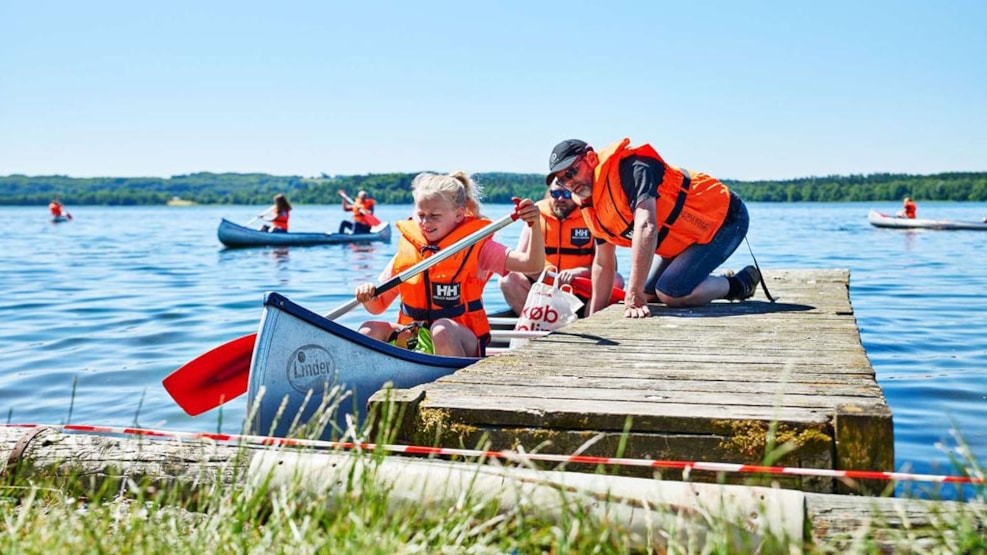 Canoe rental at the Skanderborg Danhostel
Skanderborg Canoe Rental assists with tour suggestions and good advice, and adapts the canoe trip to your wishes. Everyone receives an introduction to the canoes and how to paddle, so that everyone feels safe on the water.
All canoes are aluminum canoes and approved by the Danish Maritime Authority for 400 kg. (max. 3 people per canoe - including children.) Their life jackets are Helly Hansen and special Compas canoe vests.
Danhostel Skanderborg only rents canoes to and from Skanderborg Lake - they do not transport canoes.
Family excursion suggestion
You can rent one of Danhostel Skanderborg's canoes and go on a full-day excursion with the family through Skanderborg Lake. The start is from Danhostel Skanderborg Hostel, where the canoe center is also located.
Both big and small can have a magnificent nature experience by taking a canoe trip up through Tåning Å to Mossø. There is much to see and listen to along the way, many plants and animals, including the rare kingfisher and the night-active otter. Fuldbro Mill is located at the mouth of the river in Mossø.
The packed lunch can be enjoyed at the rest area at Mossø about 500 meters from the mill. The trip is expected to take about 5-6 hours including lunch at Mossø.
See what others are sharing on Instagram