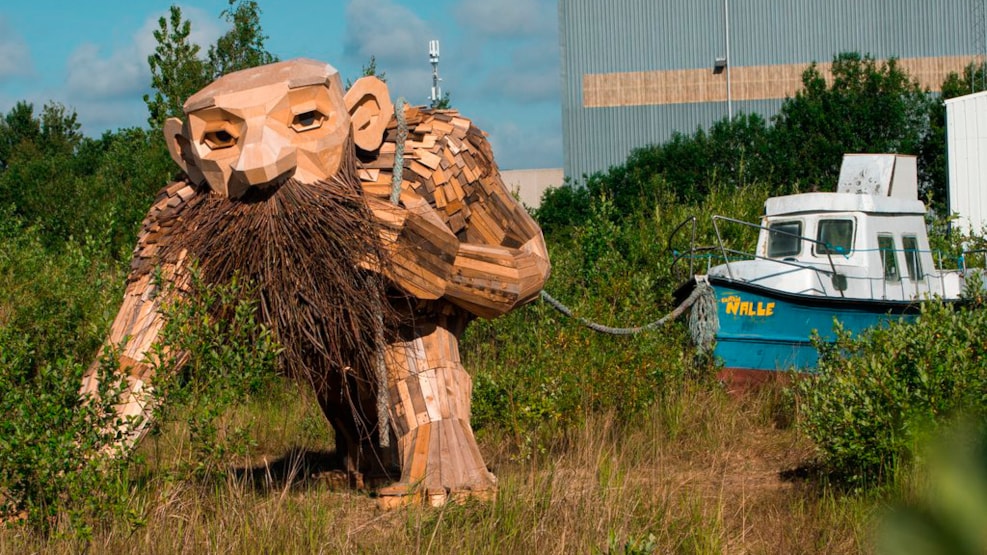 Captain Nalle
Go troll hunting in Nordhavn to find this cheeky fella and his boat.
Hunting trolls has never been this fun. Go find Captain Nalle, one of Thomas Dambo's hidden trolls in a lesser-visited part of Copenhagen. The trail begins in Nordhavn. All you need is a mobile phone. 
Maybe you already know about the Six Forgotten Giants, who hide in the area west of Copenhagen. They're mighty trolls made from recycled materials by Danish artist Thomas Dambo. His projects are to be found all around the world, in countries like Belgium, China, USA and Puerto Rico, all aimed to help people explore interesting and under visited locations and think about sustainability.
In the summer of 2020, the troll map was expanded with ten new trolls built by Thomas Dambo in collaboration with local communities across Denmark. In Copenhagen, we've gained four new hidden trolls, and one not so hidden, which you can find seated peacefully in Christiania.
Thomas Dambo's Giant Troll Party
In Nordhavn, the upcoming neighbourhood neat Østerbro, you might find Captain Nalle. All you need to do is follow the clues. He's a part of the Giant Troldefolkefest (troll party), and you just have to follow this map, which gives you the starting point. From there, look for copper triangles with a code on them, input them into the online map, and you'll find the next step along the trail. It's a great family day out - remember to pack something to drink and comfortable shoes, and read the instructions before you set out.
Be aware that for this particular hunt, the troll is about 3km from Nordhavn Station, so be prepared for quite a lot of walking or cycling. If you've already found him, go look for his cousins in Amager or Sydhavn.