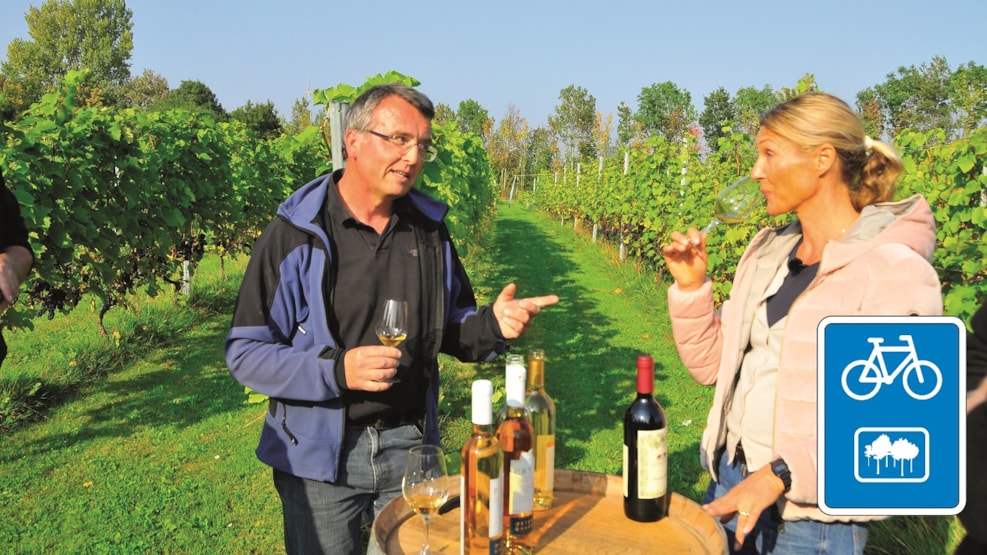 Cycle route: Forest, Coast and Wine - 41 km
Scenic wonders and cultural experiences! The bicycle route 'Forest, Coast and Wine' offers beautiful natural surroundings and interesting culture for the whole family. The tour starts in Maribo and heads north to the idyllic village of Maglemer, then continues past Knuthenborg Safari Park. 
In Merritskov, you can ride through a fenced area on a mini-safari, where you might just catch a glimpse of wild boar and bison. The lovely little harbour town of Bandholm, with its traditional, yellow half-timbered houses, lies nestled on Lolland's northern coast, overlooking the waters of Småland. Buy an ice cream at the ice cream shop at Bandholm Hotel, go for a walk down to the beach or the harbour, enjoy the fantastic view and watch the local ferry sail over towards Askø. On a warm summer's day, you can have a dip at the beach or in the harbour baths.
The tour then passes through a small forest and to Blans, where you will find a Bed & Breakfast and a lovely flower garden that is open to visitors. The halfway mark of the trip is Blans Havn - one of the small, cosy harbours on Lolland's north coast. This is a good place to eat your packed lunch and enjoy the lovely surroundings.
On your way back, you will pass through Stokkemarke, which has an overnight shelter area, an art gallery, a supermarket, a fitness and play area and a vineyard. Take a break here, visit the farm shop and be sure to enquire about their ice wine.
Follow the route in the Naturlandet Lolland-Falster app, then you'll get even more fun experiences along the way! You can find the route in the "Naturlandet's Adventure Routes" category in the app.
The bicycle route is one of Naturlandet's 19 local adventure routes, which are signposted with symbols - just follow the "trees". The route starts and ends in Maribo, see the map below.