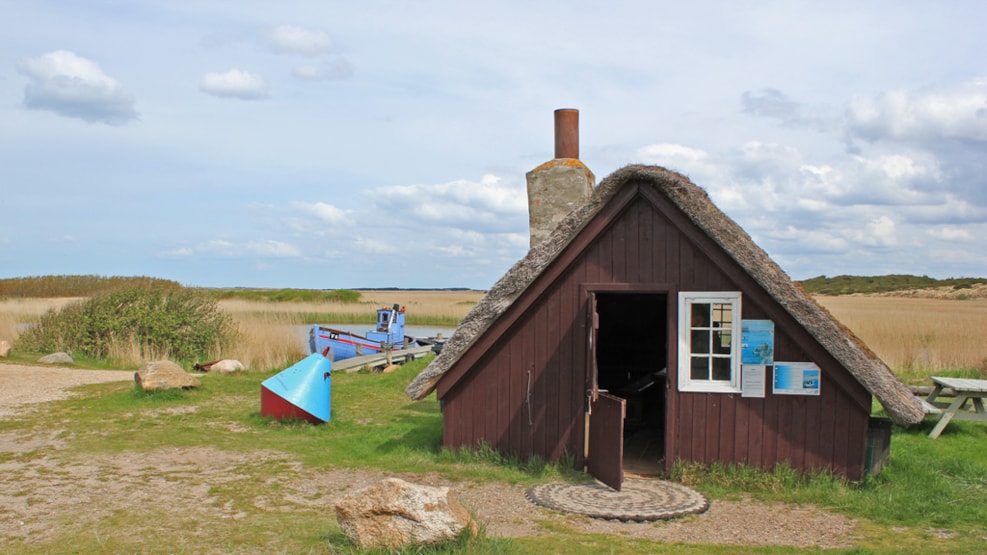 "Esehusene" in Nymindegab
The "Esehusene" are situated below Nymindegab Kro. The houses were used for fishing equipment and as home for the women "esepigerne" who were reparing the fishing equipment and preparing the bait (in Danish=Es).  Today you can see identical "Esehuse" in the museum "Frilandsmuseet" in Copenhagen.
Towards Nymindegab Strand you will find 3 small thatched huts at the bottom of Ringkøbing Fjord. Esehusene are freely accessible, and if you want to eat your packed lunch by the cottages, this is possible.
The story about "Esehusene" is that around 1816-1880 there were many who fished from Nymindegab in the spring. At this time, the geography was completely different, and the passage to the North Sea was found at Nymindegab (called Gabet), and not at Hvide Sande as it is today. The place was full of activity from spring and summer throughout.
Maids - and girls came from farms inland, and lived in the small Esehuse from April until Skt. Hans. Three of the homes were for crew and one was a tool shed where bait was put on the hooks.
Esehusene are made as A-houses, which in the area are called "Knæhuse" or "Spændhuse". "Spændhusene" were previously very common to be found on farms in West Jutland.
The cabins are constructed of the available goods. The crooked pieces of wood are probably stranded goods, and the floor is covered with, among other things, ship hatches and other uneven materials.
The reason for the cabins' name is that attachment of bait is called "at ese". This job was the girls' and there was an ace girl for every fisherman. In one day, a girl could manage to prepare four trays, each with 600 hooks distributed on three lines, 2.400 in total, which was the amount a fisherman could manage to put on a trip.
The original "Esehuse" have been moved to Frilandsmuseet near Copenhagen, and 3 of these houses have therefore been erected again, as an exact copy.