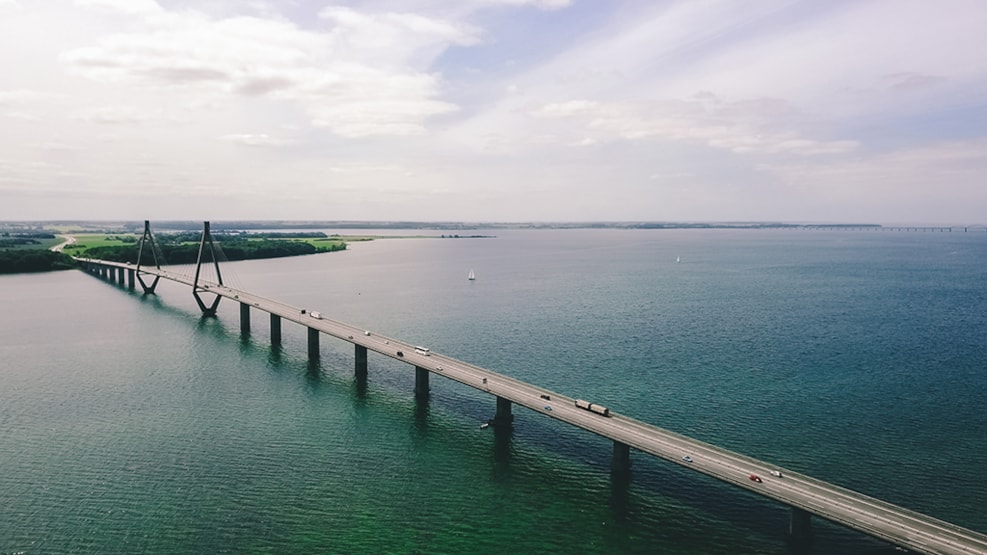 Farøbroerne
Construction of the bridges Farøbroerne started in 1980 and they opened on 4 June 1985 in connection with the establishment of the south motorway between Køge and Rødby. The bridge was also built to relieve Storstrømsbroen of growing traffic congestion with which the old bridge could not cope.
The bridges consist of two separate bridges: the 1,596-metre-long low bridge is a classic beam bridge that runs from Zealand to Farø, and the 1726-metre-long cable-stayed bridge goes from Farø to Falster. The total length of the bridge is 3,322 metres, making it the world's longest bridge at the time. In 1998, that record was overtaken by the Great Belt Bridge. 
The two bridges have spans of 40 and 290 metres and heights of 20 and 26 metres. Farøbroerne are exclusively for cars, so if you are a cyclist or pedestrian travelling to Møn or Falster you must take the bridge Dronning Alexandrines Bro between Zealand and Møn or travel from Sakskøbing to Bogø on the Ida ferry.  
Farøbroerne are a favourite spot for kitesurfers thanks to the excellent wind conditions for this particular sport.