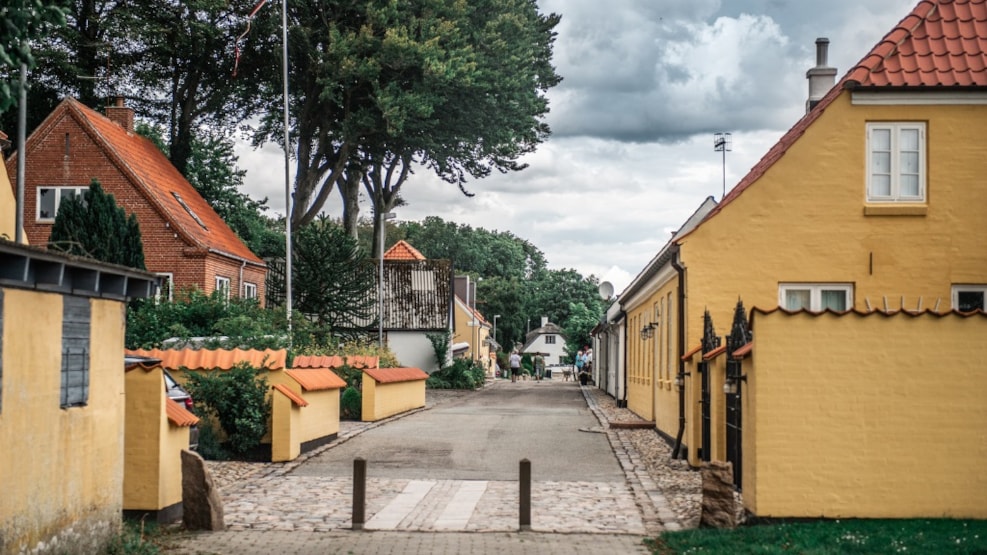 The fjord town hiking routes from Doverodde
Hiking routes along the Limfjord.
The trails offer a richly varied landscape through protected areas and lush farmland.
The area around the Limfjord is perfect for hiking in the countryside. Here, there is never far between the destinations, where new experiences offer themselves. The towns along the fjord hide fantastic natural gems, exciting activities and a rich history from Denmark's past. All this is just waiting to be discovered.
The four trails all start in Doverodde.
Green Route - 2.2 km: Doverodde route
The route goes through Købmandsgården's park, along Kærlighedsstien and back to Købmandsgården. Along the way, there are beautiful views of the Limfjorden.
Blue Route - 6.2 km: Boddum Bisgård route
The route goes over the dam to the Boddum peninsula, around the church, through Boddum Bisgård to Boddum, past the memorial stone for the poet Jens søe (Boddum's answer to Jeppe Aakjær), down to the fjord, along a narrow isthmus between the fjord and the salt marshes back to Købmandsgården. At high tide, rubber boots are a good idea.
Red Route - 8.1 km: Næssund route
The route goes out to the common area below the summer house area, along a field road to Dover Møllevej towards Næssund. In Næssund you can take the ferry to Mors or take the trip back along Dover Møllevej. At high tide, rubber boots are a good idea.
Black Route - 12.9 km: Burial mounds route
The route goes through Dover Plantation to the ancient mounds at Skibsted Fjord. Here, on large information boards, you can read about the end of the Viking Age, Boddum Bæk and Boddum Hule.

Doverodde Købmandsgård - Café and Shop
In the beautiful old merchant's farm, you can explore the hawker shop with lots of exciting souvenirs from local artisans and buy local food.
Art enthusiasts can go exploring in SMK Thy - the Statens Museum for Art department in Thy - in the old warehouse at Doverodde Købmandsgård. Here there are experiences for both young and old.

Visit Fjordbyerne, Thy
The Fjordbyernes Netværk is a platform for the villages along the Limfjord in Thy, in an area that geographically stretches from Vilsund in the north to Draget in the south and is bounded by route 11 to the west and the Limfjord to the east.
The network consists of the civic associations in Vilsund, Skyum, Villerslev, Heltborg and Doverodde/Boddum as well as Ydby.
We have established a strong network, where the key word is collaboration, where we explore opportunities to strengthen the many qualities found here.
We live in a fantastic area, which we would like to draw attention to, so that others can also enjoy it.