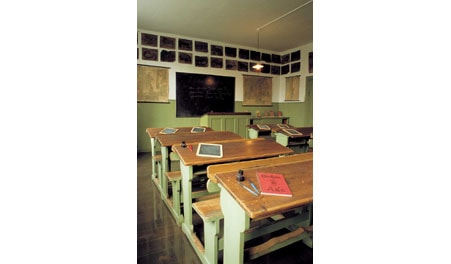 Flakkebjerg School Museum
An exciting look into the history of Danish schools.
Step inside the unique school museum that stands unchanged since the school bell rang for the last time in 1962. Schoolmistress Mrs. Ingeborg Nielsen taught children from the hinterland from 1904 to 1962 based on the important principles of the time: Children were to sit still, learn by heart, and above all, listen carefully.
Experience the classroom with its original interior: books, slates, abacuses and ink-wells and the mistress' apartment with its old, original kitchen with a woodburning oven, living room, dining room, and a bedroom. The attic contains a store room filled with old items linked to the history of schools
Flakkebjerg Forskole, which is among the oldest in Denmark, has served as a museum since 1981.
Flakkebjerg Skolemuseum offers educational courses for school classes through its school services.