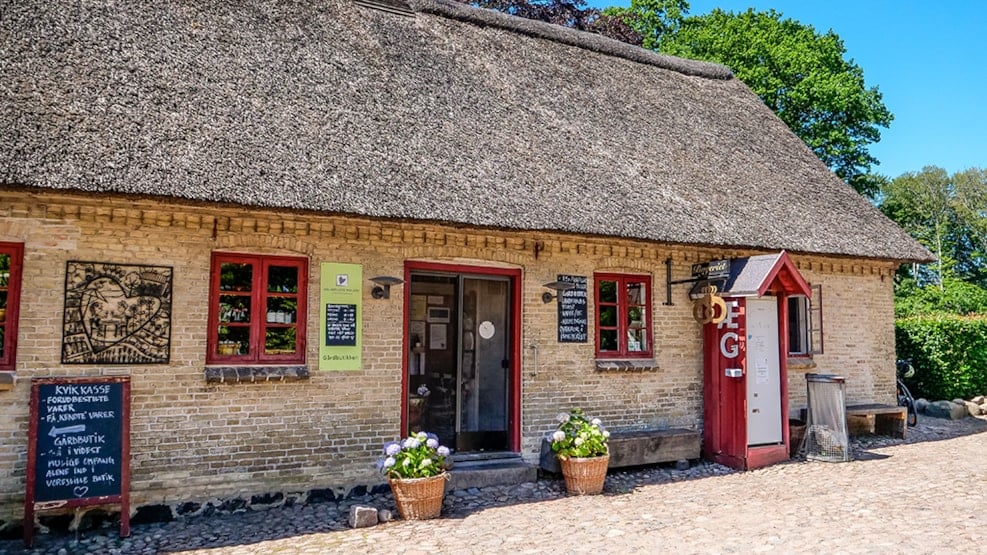 Fru Møllers Mølleri
A visit at Fru Møllers Mølleri is a complete experience. Drop in and see the farm animals up close, take a break and a deep breath. Browse the specialties and fantastic produce available from the farm shop and restaurant. This is a real soil-to-table experience.
Rural idyll and quality produce
The farm Bjeragerhougaard located a short way outside Odder is not a completely ordinary farm. Here, Bodil and Kim have created an idyllic experience centre with several shops, each with their own food production, and a delicious restaurant where the produce from the farm is used in the kitchen. The whole family will enjoy and excursion to Fru Møllers.
Drop into the Fru Møllers farm shop
In the farm shop Fru Møller you can buy freshly ground flour, grown in their own fields, freshly baked bread and cakes baked with butter, jams, meat from their own animals and much more.
The slow-moving stone grinder at Fru Møllers Mølleri grinds the grain to retain taste, freshness and optimum nutritional contents. In the farm shop, you find homemade specialties produced from quality produce. All cakes and bread are freshly baked from freshly ground flour and Fru Møller uses only a few fresh ingredients, so you can really taste what you are eating.
A butcher's of the old-fashioned kind
The butcher's at the cosy farm is an experience in itself. You can buy freshly slaughtered meat from the free-range pigs, raised on the farm, perfectly hung beef, chickens from "Hopballe Mølle" and lamb when in season, delicious charcuterie, salami, grilled sausages and much, much more.
Gastronomic experiences at an affordable price
The farm restaurant is called Fru Møllers restaurant and, here, honest food is served based on seasonal, local produce and good culinary craftsmanship. They are passionate about quality ingredients. You can sit in the cosy restaurant or in the atmospheric courtyard. Learn more about the restaurant here.
Enjoy their homemade ice cream
Yes! Naturally, Fru Møllers Mølleri has its own ice cream shop! On a hot summer's day, you can buy your children or grandchildren a cold, homemade ice cream and enjoy it on one of the benches or while you walk around and pet the farm animals. You can also indulge in a cup of cocoa or coffee or perhaps satisfy that peckish hunger with a delicious snack - the popular farm hotdog made with the sausages straight from the butcher's and sourdough bun is always a hit.
Opening hours
You can check the current opening hours at the Fru Møllers website, for the farm shop, the butcher's, the restaurant and the ice cream shop.