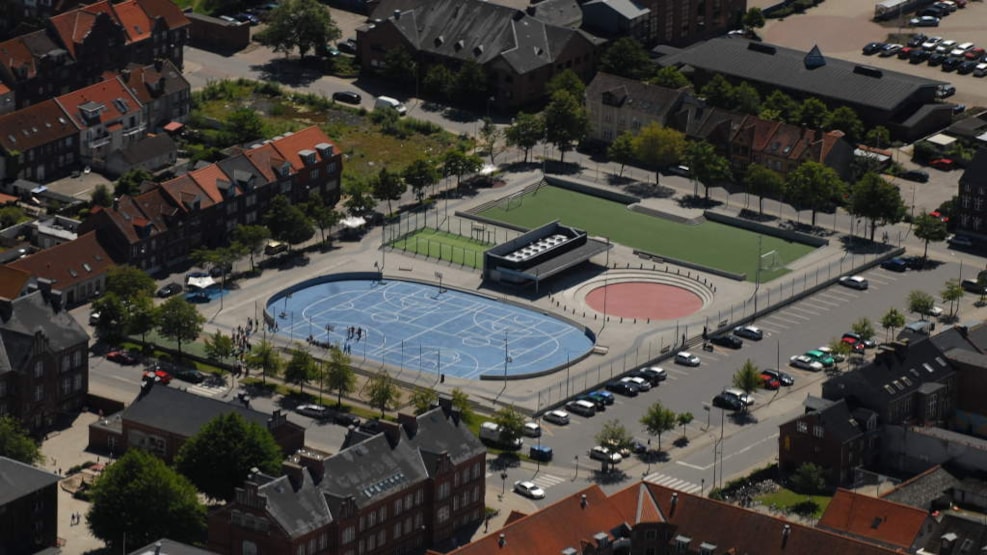 Gasværksgrunden - Activity Area in the City centre
Find sports activities for every taste at Gasværksgrunden in Fredericia City centre!
Gasværksgrunden (the gasworks site) is a sports playground - the largest in Denmark located in a city centre. The site allows for many forms of play and exercise for children and adults of all ages.
It is possible to run on scooters and skateboards or play futsal, handball, street hockey, tennis, badminton, basketball and volleyball.
The blue multi court/ice rink is ideal for basketball, hockey, rollerblading and qianball etc.
In winter the court is turned into an ice rink. It also offers curling, ice hockey and skating workshops and skating discos during the winter.
The green synthetic grass field is good for football in any weather.
The red amphitheater is used for street dance and qigong and is ideal for different kinds of exhibitions and performances.
Gasværksgrunden features a playground for toddlers, three pavilions for exercise and workout for older children and adults as well as a bocce court and a paddle tennis court.
You can also get in touch with us through Facebook.