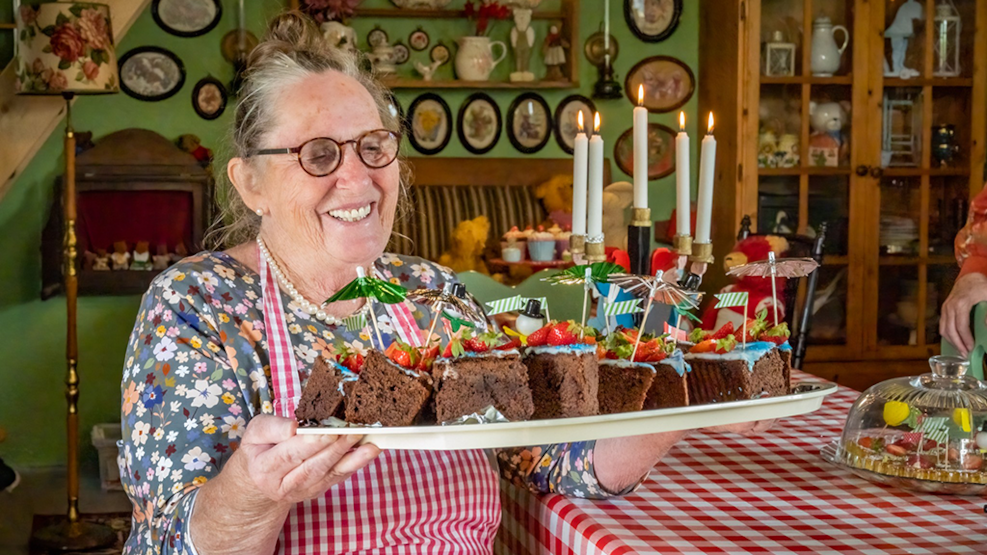 Grandma's House
Please step inside, Grandmother welcomes you...
The Grandmother House is an exciting place for the whole family and offers traditions, presence and time for cozy activities.
The time is turned back to the 1950s, when today's interactive toys are replaced by creative workshops, outdoor play and homemade cake that tastes like a piece of heaven.

Experience the fantastic Teddy Wheel of Fortune and the Teddy Bear Home for homeless teddy bears...
Adopt your own teddy bear, sit down and let time stand still while listening to grandmother's stories.
At Grandma's there are a lot of possibilities for creative pursuits – different kinds of workshops where children can create their own gifts, wrap them beautifully and take them home.
If you're hungry, you can buy homemade bread, pancakes or funny ice cream desserts. There is room outside in the sun or inside if the weather is cold.
The tables are covered with red and white checkered tablecloths and all the beautiful flowers complete the romantic courtyard in the heart of Vordingborg.
Do not miss a trip to Grandma's secret loft where there is a garage sale with findings in every style.

It's also an option to rent a cart with coffee, juice and biscuits – including a map of the best places in Grandma's town.

During school holidays the Grandmother House has extended opening hours. See more on the website