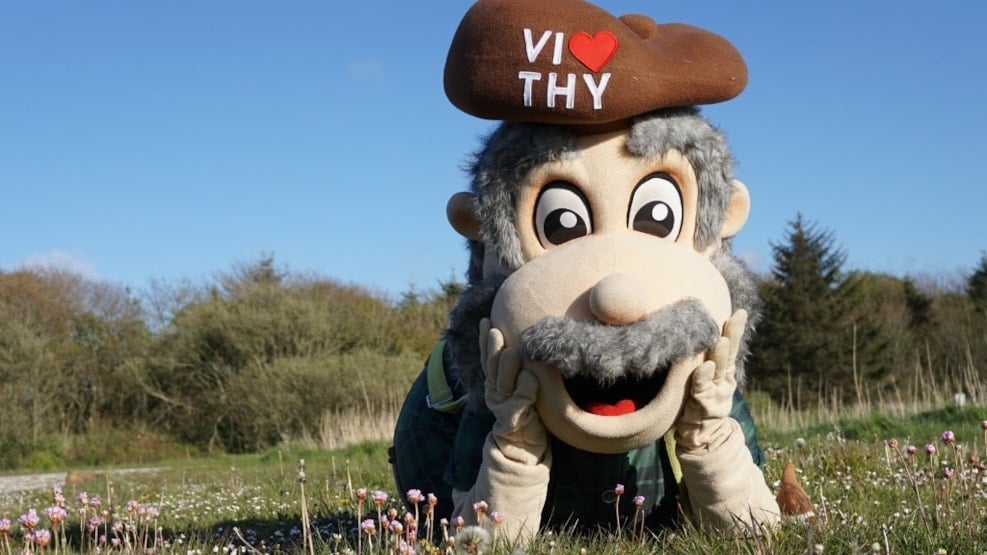 Grey Beard - Mascot in Thy National Park
In Thy we are very lucky - because it is here Grey Beard lives !!
Grey Beard is Thy's very own mascot, who lives in his old cabin in a secret place out in National Park Thy - Get out in the woods - MAYBE you can find it?
Grey Beard is known all over Denmark, and has been in almost every corner so that people can get a glimpse of Thy - and precisely because of that, there are a lot of children around all of Denmark and shout: "We want to Thy on holiday, we want up to Grey Beard !!"
Grey Beard loves to get around all of Thy, and is usually to be found when something exciting happens in Thy - Throughout the year you will be able to meet him for great stage shows with smoke, soap bubbles and a lot of good music, where he on an instructive and "Grey" Beard way will tell about life in Thy.
His whimsical nature has made many children love him, and his sweet nature quickly brings joy to young and old, so if you have not met him yet, then you have something to look forward to!
Grey Beard is a funny and clumsy guy with a big belly, long yellow braces and a huge laugh. Because even though he very often goes wrong, he is always happy and cheerful.
Grey Beard loves nature in Thy, and he knows all the animals in the National Park. His best friend is a little bird called the Grey Sparrow. It's called her because it's such a nice name. Oddly enough, she is also a sparrow, but she does not know, so it is completely random!
Look forward to coming to Thy and meet Grey Beard - and he looks forward to meeting you !!
See you?
Until then, you can see much more about Grey Beard here.