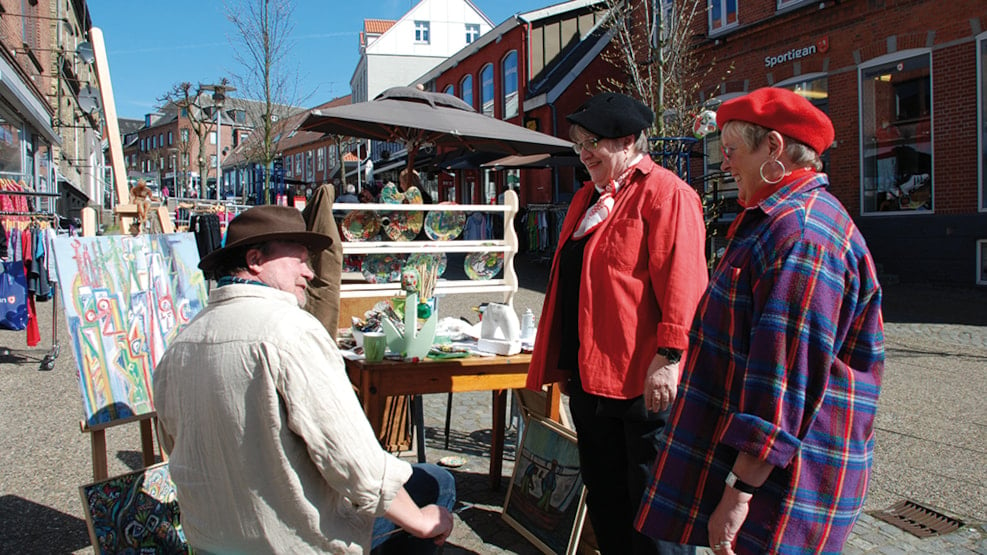 Hadsund - the town by the bridge
Hadsund is a town where, in the words of the author Hans Kirk, people 'are washed together from all sides and must try to create a common life'.
Hadsund was formally established as a trading place in 1854 - at the old ferry terminal on the north side of Mariager Fjord.
The town experienced rapid development at the end of the 19th century.
The railway from Randers was built in 1883, and in 1900, the town also received a railway from Aalborg. The ferry service was discontinued in 1904, and the two railways were connected by the Hadsund Bridge - at that time Denmark's second longest bridge.
However, Hadsund remained a small town until the 1960s and 70s when, within a few years, it evolved into the municipality in the country that, per capita, received the most business support. The industry grew at a rapid pace, and the population nearly doubled.
The entire history of the town can be relived at the Hadsund Regional Museum, located on the old watermill farm of Rosendal in the northern part of the town - surrounded by beautiful surroundings with a millpond and wildlife park.
A visit to the Hadsund Regional Museum can help provide a good understanding of how the area around the outer Mariager Fjord has evolved into what it is today.
Next to the Hadsund Regional Museum is also the Mill Historical Collection, Denmark's only mill museum. The collection focuses on the old water, wind, and animal-powered mills.
Today, Hadsund is a small trading town where the focus is on coziness and life by the water. The harbors are very active, and especially in the Hadsund Rowing Club, new Danish champions are added regularly.
Hadsund has a charming city center and good eateries - and the harbor front is particularly a lovely place for a walk or indulgence at davinci ristorante, the recognized Italian restaurant in town. Here, you can enjoy the fjord, the view, and the bridge!
On the square, the local tourist association holds several events throughout the summer. Music, in particular, fills the streets and the square under the canopy on the square.
Hadsund also boasts beautiful nature. Take a walk in the lovely Linddalene or pet a deer in the deer park. The deer park is a fantastic excursion spot for the whole family - but remember to bring carrots.