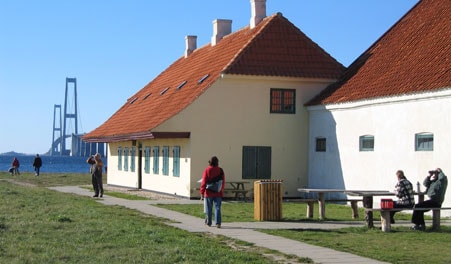 Halsskov Odde
Halsskov Odde – a 200-metre-long isthmus – is the westernmost point of the Municipality of Korsør.
 
Halsskov Odde was a central feature of the building site during construction of the Bridge, and the tunnel elements were cast here in a purpose-built factory. Now all traces have been removed and the area has been allowed to return to its original state.

From here you have the best view of the Great Belt Bridge and the island of Sprogø. It is a popular recreational area, both for the local community and increasingly for visitors from near and far.

This territory has played an important role in Denmarks history. Defensive fortifications were built along the entire coastline, probably in the seventeenth or eighteenth century. These have now been unearthed, and the marks of the bastions can be clearly seen.

From 1795 to 1927, the iceboat transports departed from here. The history of the iceboats is described in a small museum in the white building lying end-to-end with Revhuset, also known as Christian IVs Post Office and used as a clubhouse by local associations.

Halsskov Reef is also a popular fishing area, one of the best on the Great Belt, and attracts large numbers of anglers. Catches here include cod, flatfish, trout and, in May and June, garfish.