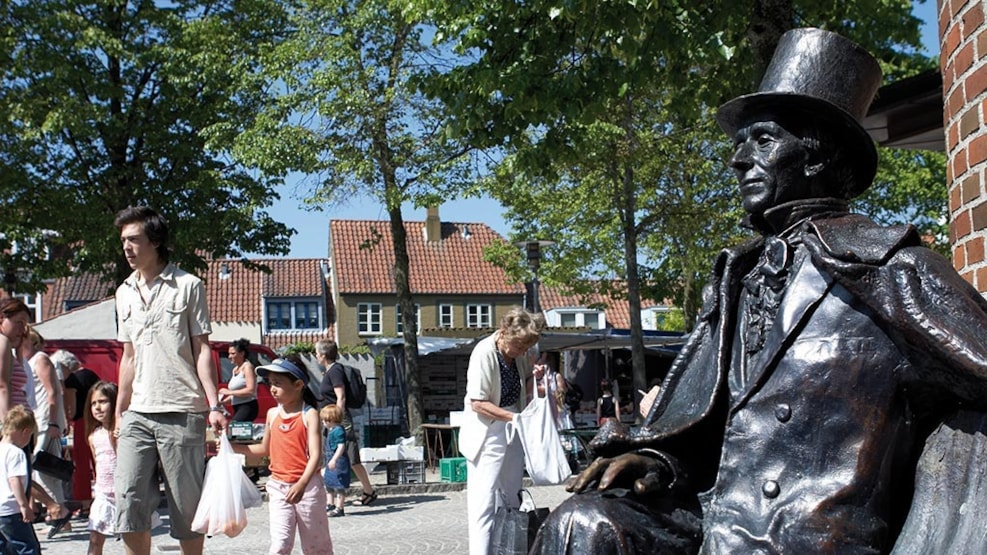 Hans Christian Andersen on a bench
Hans Christian Andersen sitting on a bench is just one of the total of 5 sculptures surrounding the entrance of the hotel.
Jens Galschiøt (1954 - ) created this statue of the famous writer and made it one of the most photogenic sculptures in the city. The entire sculpture consists of 3 pillars, each focusing on one of Andersen's fairy tales and a bench with feet for legs.
The pillars around the entrance to the hotel are based on Clumsy Hans and The Steadfast Tin Soldier. The one on the corner is based on the Little Mermaid. The bench with feet is placed between the second and third pillar. The sculptures are all made in bronze.
Jens Galschiøt (1954 - ) is certified as a construction blacksmith and is a self-taught silversmith and sculptor. He lives in Odense, where he opened a 200 m2 studio back in 1985. The studio contains a bronze foundry, a workshop, a gallery open to visitors, and a sculpture park.
Galschiøt is internationally known and is one of the most significant Danish artists of the late modernity (after 1980). He has created lots of different things, from jewellery and small figurines to giant, politically charged sculptures. You can visit his gallery in Odense Monday - Friday, and Sundays all year round.