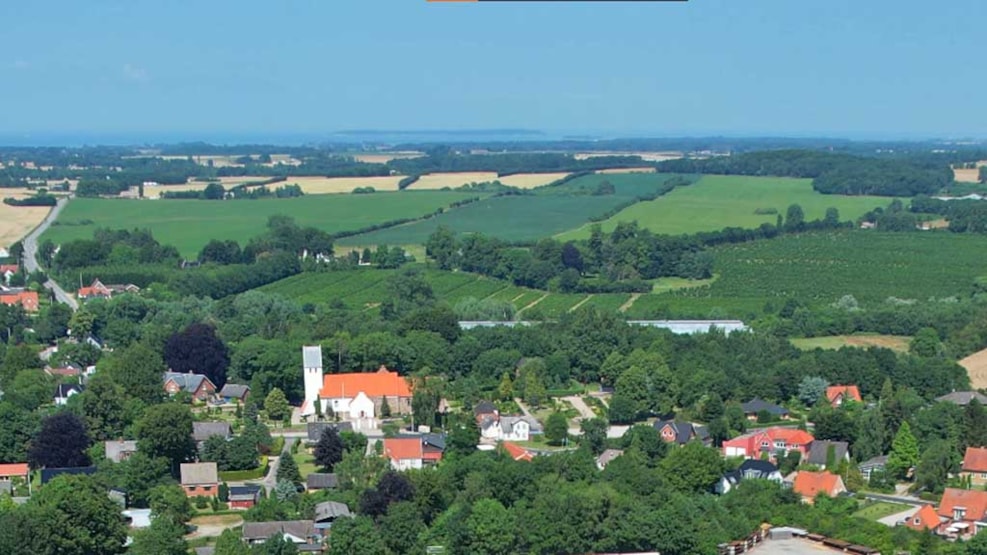 Hårslev
Hårslev is a very old village with an idyllic street pond and a lovely forest where you can enjoy a picnic
The village of Hårslev is situated between Årup and Bogense. The houses are placed along the road in an old tradition, and there has been a forte, a kind of square of 100x100 m west of the church.

The name Hårslev probably comes from the 5th-6th century AD, and may have been formed by the male name Hathr or Håthr put together with the ending -lev, which means inheritance or property.
There have been found remains of something that could be a Viking rampart a little west of the town at Rakelbro.
Hårslev was a large village with 19 farms and 18 houses.

Stor Å, meaning large brook (it is quite small in our days) runs through and south of Hårslev.
The church
In the middle of the city is Hårslev Church, which dates from the 12th century, but has been expanded several times. It is a large village church whose walls are characterized by the alterations.The church is open or can be opened when there are staff onsite.
Teacher's Daughter, Folklore Collector and Author
At the cemetery you can see the gravestone of Christine Reimer, a journalist, author and more.
Christine Reimer was the daughter of a teacher in Hårslev, and in the early 1900s, she published the books "North Funen Farm Life in memory". At Nordfyns Museum in Bogense there is a small memorial room for Christine Reimer.
Hårslev today
Hårslev is home to Nordfyn's largest private workplace Haarslev Industries, which produces machines for processing waste.
Worth a look
At Mosevej, a side road to Bogensevej, lies the pond with beautiful views of the fields. From Mosevej you can walk or bike along the gravel road on Lindegårdsvej past cows and ponds.

When you reach a kind of t-junction you can turn right and drive down to Ejlskovvej, where you can either choose to turn right again and drive / go back to Hårslev, or turn left and pass Rakkelbro, continue to the village of Ejlskov and further out into the Funen countryside, perhaps down to The Old Gardener's Garden.

Behind the church is the forest Præsteskoven, planted on some of the old vicarage land. Here you find a beautiful clearing with table-benches, where you can eat your food, while the children climb the trees in the dense, young forest.

Population: About 375.