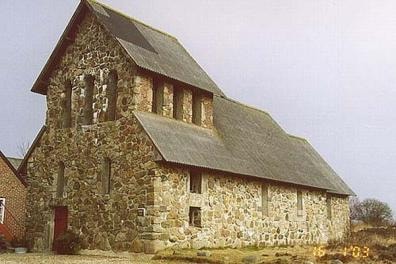 Hellig Kors Monastery
Hellig Kors Kloster on Dejbjerg Hede, despite its appearance is also from the 20th century, but are built in boulders almost independently by a priest from the area with the help of volunteers.
Hellig Kors Monastery was started by the clergy couple Isa and Haakon Rabjerg, who in the late 1940s bought a piece of heathland with a view of Ringkøbing Fjord. Here they wanted to build a monastery, and around 1975 the whole complex was completed.
Today, the Hellig Kors Monastery is led by the couple Marianne and Carsten Dalsgaard, who since 2017 have held services in the beautiful and newly whitewashed church.
Hellig Kors Monastery is an evangelical monastery, and is a human and spiritual refuge. The place breathes peace and quiet as it is located on the heath overlooking Ringkøbing Fjord. Therefore, the Hellig Kors Monastery has established a Shelter and tent site, where you can stay in the glorious nature and at the same time use the monastery's other facilities.
In the Monastery of the Hellig Kors, services are also held where you can come and be close to God and his word. In addition, the Holy Cross Monastery also hosts outdoor worship services, and a valley in the Garden of Paradise.
Find more information on the Hellig Kors Monastery website.