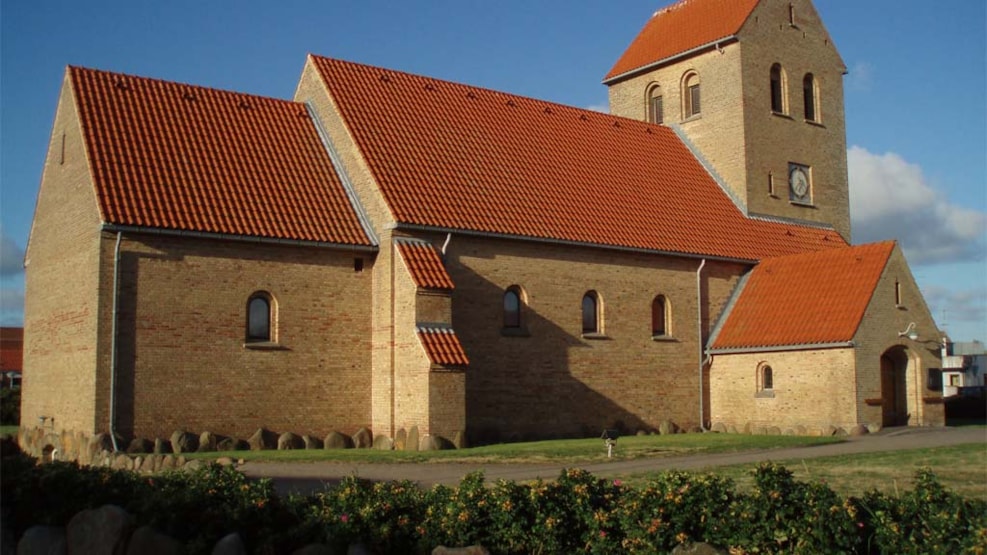 Helligånds Church Hvide Sande
Newer church with the only votive ship in Denmark. Hvide Sande is "new" town and the same for the church. In 1954 the construction of the church started after many years of hard work collecting money from the citizens of the town. The church is made of yellow bricks in late romanesque style and is probably the last one built in Denmark in this style.
Helligånds Church in Hvide Sande was built in 1954 after many years of diligent collection work among the city's citizens.
The church is built of yellow bricks in late Romanesque style, and is probably one of the last churches built in this style in Denmark. The church has a choir over a high basement, and the nave has heavy buttresses at the eastern corners.
Inside, the church walls are whitewashed, and have flat beamed ceilings. At the altar there is a large and smooth oak cross, and the candlesticks were made by the then lock master C. Gerhardt. The rug in front of the altar bears the inscription "Give God's peace its proper sound", and was embroidered in 1981 by 27 women from Hvide Sande.
In the church hangs the church ships "Fanny" hung in 1954, and the votive ship the fishing cutter "Jenny Skomager" hung in 2004. Votive ship is the term for a faithful copy of a sunken ship, and was built by a surviving sailor and donated to the church.
The church's oldest bell is from 1954, and bears the inscription: "Give God's peace its proper sound". It is in memory of P.M. Møller, and Wife Anna Hansdatter. The new bell is from 2008, and bears the inscription: "I call between sea and fjord, everyone came from the south and north. When you hear my complaint, it is a memory of eternity long". The bell was donated by A.P. Møller and wife Chastine Mc-Kinney Møllers Fond for public purposes.