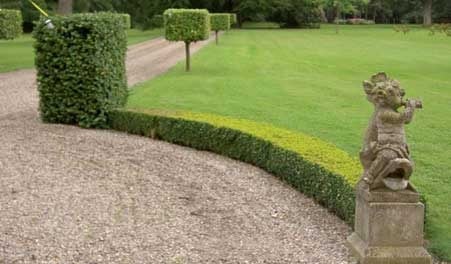 Holsteinborg Park
HOLSTEINBORG CASTLE
Holsteinborg Castle which is located 13 km from Skælskør in the direction of Næstved was build by the Trolle family between 1598 and 1651 but has been owned by the Holstein family for 12 generations, since 1707. The impressive main building consists of four two storey interconnected wings surrounded by a moat. The castle is surrounded by an extensive, undulationg park, which falls gently away to the south towards Holsteinborg Cove. Because of its outstanding beautiful setting, the castle is one of the best known in Denmark. From the main building you can enjoy the view of the Småland Sea and the great Belt, including the idyllic small islands, Glænø and Ormø.

HOLSTEINBORG CASTLE AND H. C. ANDERSEN
Hans Christian Andersen visited Holsteinborg Castle for the first time in may 1856 following innumerable invitations from Count Ludvig Holstein and Countess Joachimine (Mimi) Holstein. Until his death (1875), he returned to the castle almost every year 35 times in all. Here he truly felt at home. On a photographe taken on the veranda in 1870 he wrote: At Holsteinborg my sun-picture was created. For here sunshine in my heart was laid.