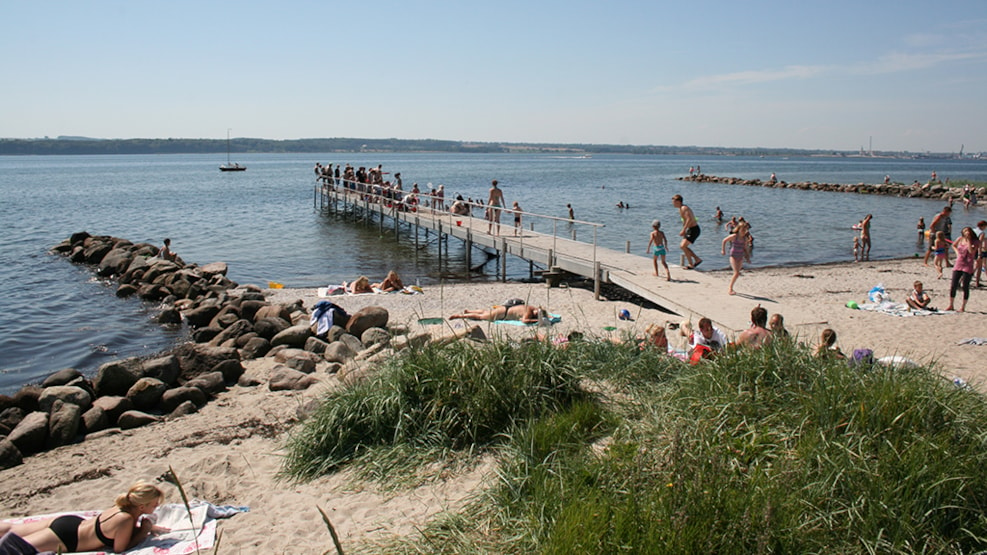 Husodde Beach
Are you looking to find a great bathing spot? The lovely Husodde Beach is an obvious choice, then. Top notch facilities, wonderful nature, an ice cream shop and miniature golf nearby makes this spot a favourite among the locals.
Great beach near the city centre
In the northeastern part of Horsens, in the Stensballe quarter, you can visit the beach at the banks of Horsens Fjord. From here you have an excellent view of the city and an overview of the islands in the fjord. The beach is a popular excursion point for local citizens and guests whenever the sun is shining.
The beach has fine white sand and calm shallow water. During the summer period, a bathing jetty gives way for fun activities for both crab fishers and those who take to water like a duck.
Blue Flag and good facilities
Husodde Beach is the only Blue Flag beach in Horsens Fjord. This certification means that an extra effort has been made here for the beach environment, safety, facilities and information. All this to give you a great experience, when you visit the beach, as well as to protect the sea- and coastal environment.
You can find information boards, rescue equipment, tables and benches where you can enjoy your lunch at the beach. There are also disabled toilets and other disability friendly facilities. The parking lot located very close to the beach has plenty of space.
Children will love it
Husodde Beach is perfectly suited for families with small children. In addition to the shallow water and security, parents can sit on a grassy area next to the beach, sheltered from the wind while children are having fun at the playground.
The kiosk sells delicious ice-cream and a nice medieval themed miniature golf course offers fun for the whole family. Bring a bucket and try to catch crabs at the stone wall. There is  a good chance of a catch.
Go to the beach by bike
At Husodde Beach you can borrow a bicycle and go for a ride on the paths at the coast of Horsens Fjord. The popular bicycle route around Horsens Fjord passes close by. The route around the fjord includes a crossingwith the little Alrø-Hjarnø bicycle ferry. Very close to Husodde Beach, you can explore the old manor forests of Stensballe. You can also ride on the Husodde Path towards the city centre view a nice panorama view.
See and follow routes at Horsens Fjord with the Coastal Land digital map.
Want to visit more beaches?
Looking for inspiration for your next beach excursion? This is your overview of beaches in the Coastal Land.