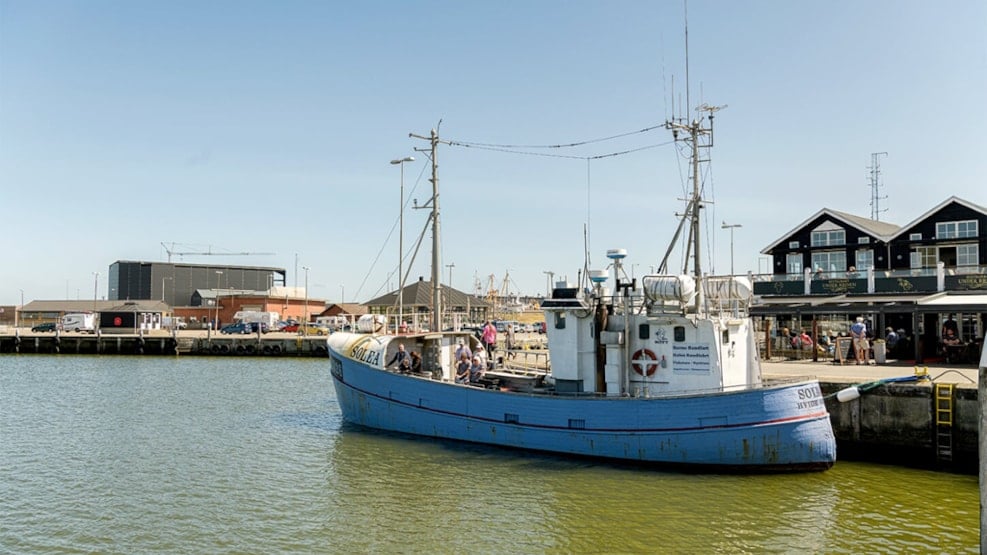 Hvide Sande Harbour
Hvide Sande Havn is known as one of the West Coast's most modern fishing ports, and thus also Denmark's 5 largest. In recent years, the port has developed into an active traffic port, and the volume of goods has increased since 2013. In addition, Hvide Sande Harbor also has a growing role as a base for a number of offshore wind activities.
Hvide Sande Havn is one of Denmark's most modern fishing ports, with good service facilities. Hvide Sande Harbor was built in connection with the drainage sluice and the chamber sluice and inaugurated in August 1931. Major expansions and renovations of the harbor were made in the years 1970 - 1985, and in the years 2002 - 2008 large investments were made primarily in a modernization of unloading locks. and the auction conditions for consumer fish.
The harbor consists of 2 harbor sections west of the locks: Sydhavnen, with 2 basins, and Nordhavnen and of 2 harbor sections east of the locks, in Ringkøbing Fjord: Østhavnen and Tyskerhavnen. The port has a resident fishing fleet, which consists of 60 vessels with a total gross tonnage of approx. 4,000 BT.
The smaller vessels are disappearing and will be partially replaced by larger vessels of 200-300 GT. During the spring months, many foreign vessels flock to Hvide Sande Harbor, primarily due to the sole fishing. The harbor entrance faces the North Sea directly. The entrance is protected by a 500 m long pier. The water depth in the entrance is 4.5 - 5.0 m.