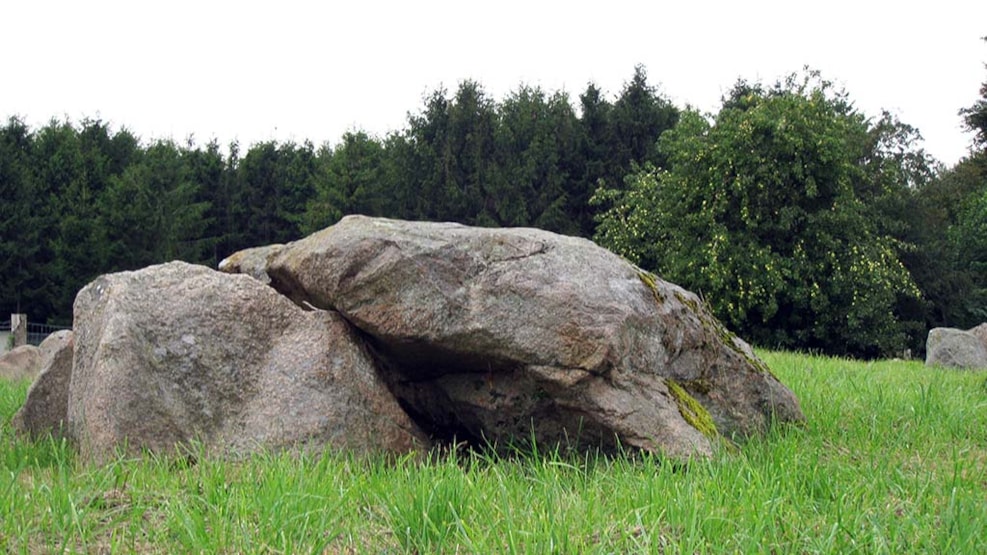 Kappendrup Kirke (long barrow)
Kappendrup Church is a sacred place, but it is not a church for Christians, it is a large burial monument from the Stone Age.
Kappendrup Church has absolutely nothing to do with Christianity and village churches, but it is the name of a long barrow from the Neolithic period.

When you stand in front of Kappendrup Church, you must mobilize your imagination a little. Over time, soil has disappeared, and stones have been moved. The stone barrow was covered by a long mound whose outline is still visible because the 37 boulders that edged the mound are still there, some of them overturned. The mound is 35.5 meters long and 9.25 meters wide. There are two tombs, one with capstones. Right next are the remains of a large burial chamber without cover or soil. Next to the Kappendrup village are several round barrows.
DIRECTIONS:
From Route 327, for example, turn onto Hjadstrupvej, drive through Hjadstrup to Kappendrup. Then the road is called Kappendrup. Park at the Kappendrup playground.

From Otterup, drive along Horsebækvej. Turn right in Hjadstrup and continue to Kappendrup. Now the road is called Kappendrup. Park at the Kappendrup playground.

There is a sign between Kappendrup 63 and 67, go straight ahead and there is a small sign that says "Sti", which means trail. You then walk to the right, and soon you'll see the stone barrows.