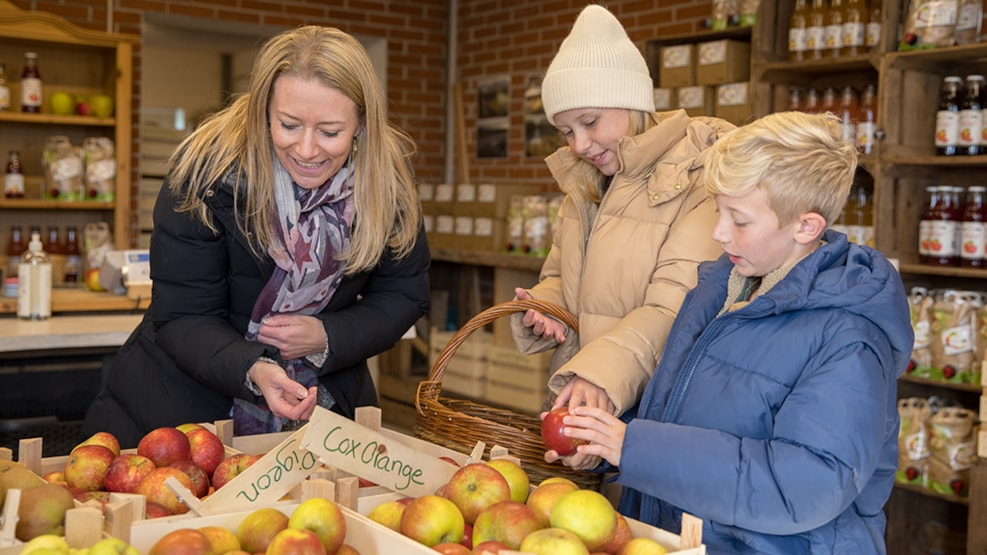 Karensminde Orchard (Frugtplantage)
Between Odder and Hou in East Jutland you can visit this large orchard selling a multitude of different berries and fruit. Visit the farm shop, the fruit stall, or pick your own apples.
Fresh fruit straight from the tree
Bring the family to the countryside and combine shopping with an experience at Karensminde Orchard. Here, you can walk freely around the orchard and handpick fruit. Depending on the season, you can pick apples, pears, plums, but also blackberry, raspberry, blueberry, gooseberry, redcurrant, and sweet cherries.
How it works
Start by reporting to the personnel in the farm shop. They can inform you which fruits are available right now. If you bring your own container or packaging, this must be weighed in advance in the shop, since the price depends on the weight of the fruit. You can also opt to buy bags or boxes in the farm shop. You can borrow a map and bring it to the plantation. Only pick fruit where signposts clearly inform that this is an option. Back in the store, you must weigh the fruit and pay cash or via the Danish mobile payment app MobilePay.  
The farm shop
All fruit and berries in the orchard are also sold in the farm shop when in season. Here, you can also purchase their popular apple juice or their own production of marmalade which comes in many flavours and sorts.
And you will find a large selection of different sorts. Apple sorts include Pinova, Elstar, Wellant, Gala, Mutzu, FIlippa Bellida, Cox Orange, Ingrid Marie, and Belle de Boskoop. Pear species include Concorde, Comice, and the Danish sort Clara Frijs. SO regardless of preferences, you can surely find fruit to match your taste at Karensminde.
Follow Karensminde Orchard on social media
On Karensmindes Facebook page you can keep updated on what is available right now. At their website (in Danish) you can find a season calendar as well as find the current opening hours. The opening hours change over the course of the year. In low season you can experience that the farm shop is closed, but the little self-service fruit stall is open.
About Karensminde
Karensminde Orchard is run by owner Bendt and his wife Lene. It is indeed a family business, and you can run into several other family members in the plantation. Karensminde has many years of experience – it was started by Bendts grandparents back in 1932. The old traditions are still honoured, but using modern cultivation methods, and focusing on biodiversity and sustainability. You might spot beehives for wild bees, insect friendly flowers, and many birds feeding on the insects living in the orchard.
A part of the Coastal Land food map
The Odder Coast and the rest of the Coastal Land is bursting with farm shops and locally produced food. With the Coastal Land food map you can find inspiration for other local quality manufacturers of fruit, fish, meat, cheese, wine, and much more.