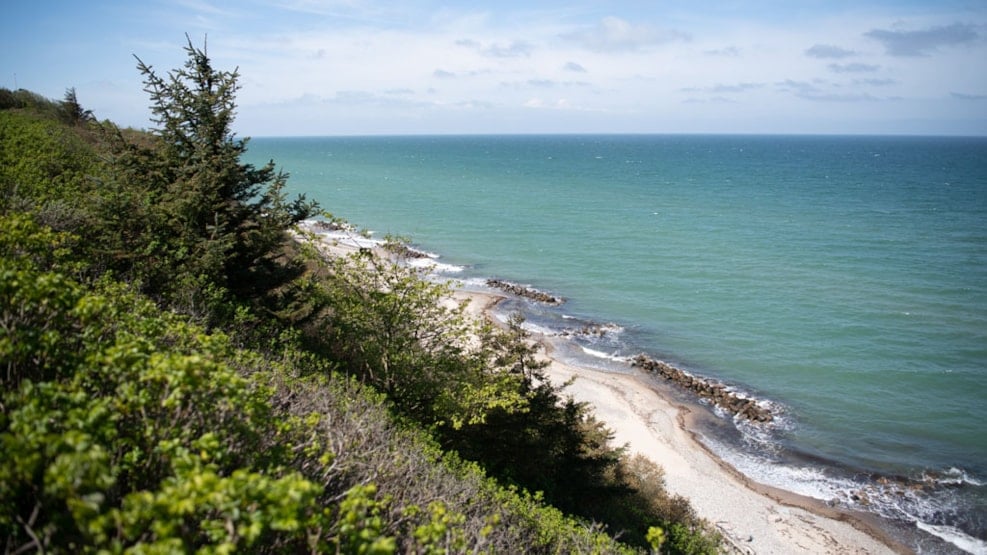 Kierkegaard by Nature – an interactive hiking route in Gilleleje.
Kierkegaard by Nature – an interactive hike in Gilleleje.
The trail starts at Stejlepladsen in Gilleleje Harbour, where you are led to the east by Fyrstien towards Nakkehoved Lighthouse or to the west by Gilbjergstien towards Søren Kierkegaard's Monument.
At the beginning of the trail, you find a description of the trail, and you can buy the app on the website "Kierkegaard by Nature ". For the first time ever, they have developed an app where you can immerse yourself in Søren Kierkegaard's philosophy while interacting with Gilleleje's nature.
Gilbjerg in Gilleleje was one of Søren Kierkegaard's favourite places...
... where the narrow paths turn and twist along the steep cliffs by Kattegat. Here, he walked in the summer of 1835, 22 years old. During these walks, he philosophised about life and things bigger than himself. 
To Kierkegaard, it was about nature's religious effect where you, through tranquillity and concentration, can obtain higher enlightenment and understanding of yourself.

The Kierkegaard by Nature app invites you to follow Søren Kierkegaard's footsteps on the paths by Kattegat in Gilleleje. A trail of 12km extends from Nakkehoved Lighthouse in the east and past the monument of Søren Kierkegaard in the west. By way of quotations and questions, the app opens for reflection and dialogues about life. The app is DKK 35.00, and it is possible to walk the trail all year round.