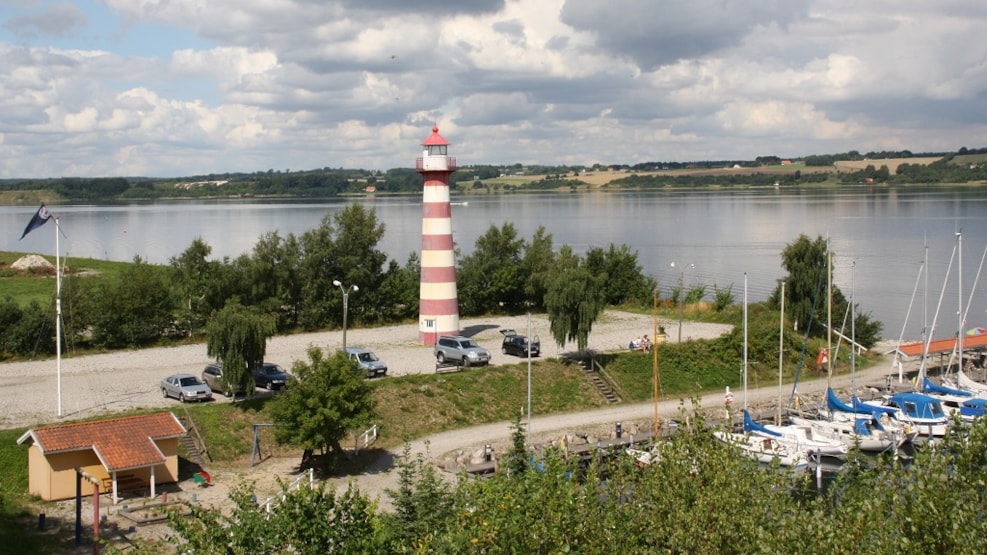 Kongsdal Yachting Harbour
All harbors in Mariagerfjord have their own character and in their own charming way, they do the most beautiful fjord, in Denmark, honour. Some harbors are big, others are small and some are in-between. Kongsdal Marina belongs to the latter category, and it has some of the most beautiful, most visible and unique landmarks of all the harbors in the Fjord. A genuine lighthouse – brought to the marina from Thyborøn –along with a big and beautiful harbor logo in natural materials, which, in an inviting way, welcomes you to the harbor.

The entire Dania- area is filled with history, which for instance is symbolized in the idyllic yellow workers' home. Today Akzo Nobel Salt has its own harbor, while we find Kongsdal Marina at the east side of the Dania-area – a fantastic place for yachtsmen and anglers.

Kongsdal Marina was founded by Kongsdal Baadelaug back in the 1980's. The beautiful harbor logo on the hill was founded in 1992 because Her Majesty Queen Margrethe were to sail on Mariagerfjord. And the Queen did notice the decoration, because when she arrived in Mariager, she stated that she during her stay would like to visit Kongsdal Marina.

Visitor fee per day: 100 kr.
Use of area to launch boat: 50 kr. Each time.

Futher information www.kongsdal-baadelaug.dk 
  
*We accept no liability for price changes and tupographical errors.