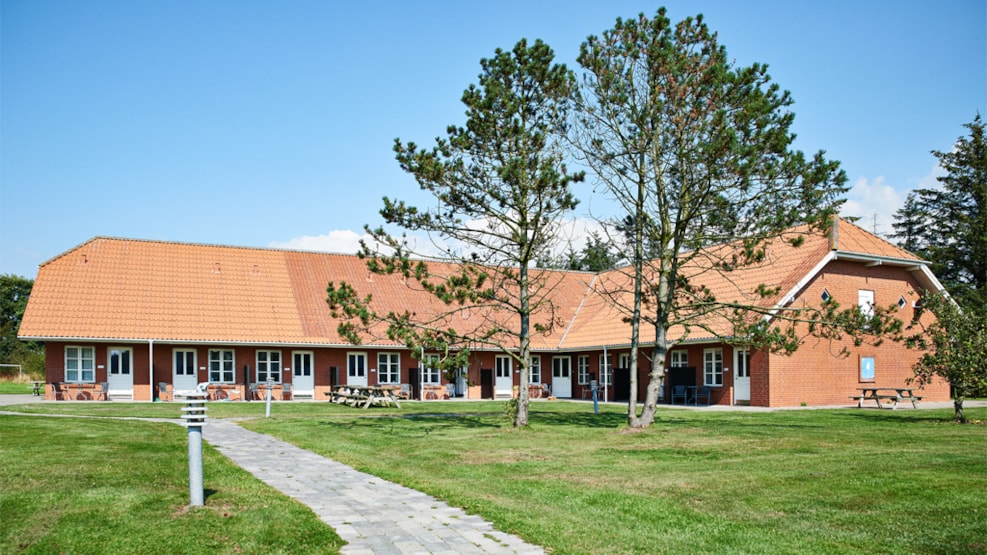 Lindvig
Are you looking for a holiday home with space for up to 70 guests? A charming holiday resort with 28 newly renovated rooms and cabins, all of which have their own bath, toilet and a small terrace? 
Lindvig is perfectly equipped for families and group stays. Lindvig Ferie is located only 500 meters from the North Sea Nature Park, which with 225 km2 is one of Denmark's largest contiguous nature areas.

If you are going for a trip, you will meet the long sandy beaches of Nymindegab after only 3 minutes' drive. As a group of a minimum of 20 guests, you get the opportunity not only to rent our fine rooms and cabins, but also one of our 4 rooms with tables, chairs, service and everything else you need to enjoy family togetherness in comfortable and cozy surroundings. Do you want to take care of the cooking yourself or order "take-out" from our local chef? There is a large kitchen which is possible to use. 
Please note that the minimum length of stay for groups is 2 nights in the period from 01 April to 01 November.
FACILITIES
23 x double rooms for 2 guests (+1 x extra bed for small children)
4 x cabins, with sleeping places for 4 guests (+1 x extra bed for small children)
1 x cottage, with 4 rooms for 6 guests.
4 x newly renovated rooms with space for 20-80 guests per room.
1 x large kitchen.
Large park-like garden of 30,000m2, park benches, football field, 2 x gas grill, charcoal grill, one of West Jutland's largest 18-hole adventure mini golf course, trampoline, playground, billiards, table tennis, table football. Large lockable bicycle shed.