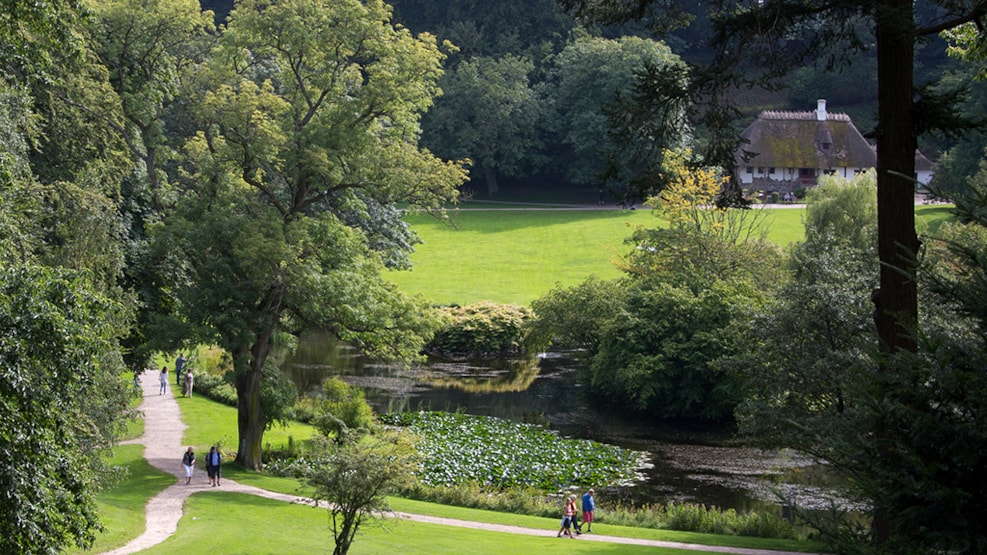 Liselund Old Castle and Park
Liselund House and Romantic Garden
On the outskirts of Møn, dangerously close to steep cliffs, lies an adorable little house surrounded by enchanting gardens. This is Liselund House.
Resembling a miniature palace, the house lies in a garden glade and bears witness to the love of a noble couple – the de la Calmettes. A love of art, of the ideas of the time, and of each other. Antoine de la Calmette built the house in 1792 and named it after his beloved wife, Lisa. Surrounded by nature, they could cultivate their love for one another in these beautiful surroundings.
Antoine and Lisa were Møn's eighteenth-century jetset couple, and Liselund offers a unique glimpse into their privileged life – from the beautiful floral decorations in the garden room and the stunning view of the gardens from the dining room, to the iconic Monkey Room that not only conveys Antoine's dramatic life in Lisbon at the time of the earthquake in 1755, but also bears witness to the worldview of the entire period.
The house is encapsulated by the best-preserved Romantic garden in Denmark. As you enter, you are surrounded by peace and tranquility. This idyll is further completed with ducks, water lilies, and the ordered wilderness of the Romantic era.
Antoine and Lisa toured Europe's Romantic gardens in order to gather inspiration for their retreat and they discovered that a garden walk can be a journey of discovery in itself. When you wander along meandering paths through the landscape it shifts from idyllic to dramatic. The garden quickly became a preferred motif of the painters of the Golden Age, and continues to enchant its guests to this very day.
Liselund house can be visited on a tour during their opening period, where groups also can book private tours - read more on the website. The garden itself is open all year round and access to it is free.