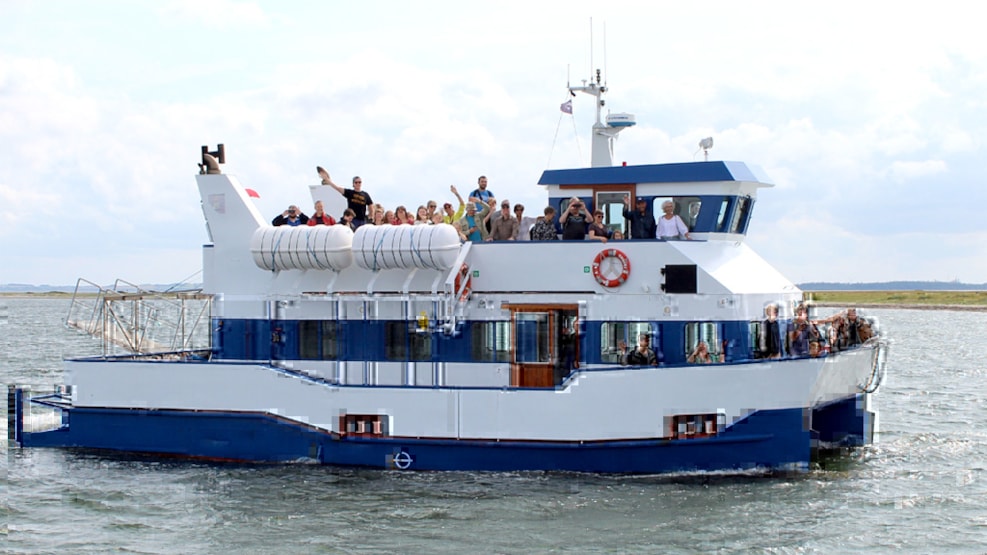 The Livø ferry
Take the Livø ferry to Livø and experience a fantastic nature adventure in the heart of the Limfjord.
Embark on a memorable sailing trip on Bertha-K and get close to the unique nature of Livø located in the Limfjord.
The Livø Ferry is sailing daily from April to October with departures from Rønbjerg Harbor. The boat trip takes approximately 30 minutes, and while the ferry sails slowly towards Livø, you can take a seat on the sun deck or in the lounge and enjoy the view.
Special Events on the Livø Ferry
In addition to the regular sailings to and from Livø, Livø Crossing also offers special events.
During the summer, you can experience activities such as seal safaris, beer tasting at sea, or idyllic evening cruises in collaboration with Fur Camping.
The special events with Bertha-K are a fantastic way to combine fun, entertainment, and unique experiences with friends and family. Rent Bertha-K outside the regular schedule Livø Crossing also offers private events on Bertha-K.
Whether it's an intimate gathering with close friends and family or a larger celebration with colleagues and business partners, you are guaranteed a memorable experience.
Over the years, we have gained extensive experience in arranging trips for both small and large groups, and regardless of your preferences, we ensure to find the best solution for you.
Bertha-K can accommodate 60 dining guests, and there are accessible facilities for people with disabilities.
Read more about private events on Bertha-K here.
Livø
Livø is a beautiful island located in the Limfjord, stretching along the northern coast of Jutland. The island is a protected natural area and is known for its beauty and nature.
On Livø, you can experience a diverse nature - in fact, you can experience almost all of Denmark's nature on Livø.
There are flat beach meadows, primeval forests, and steep cliffs.
Join Bertha-K and experience a true island gem, or read more about this lovely gem in the Limfjord here!