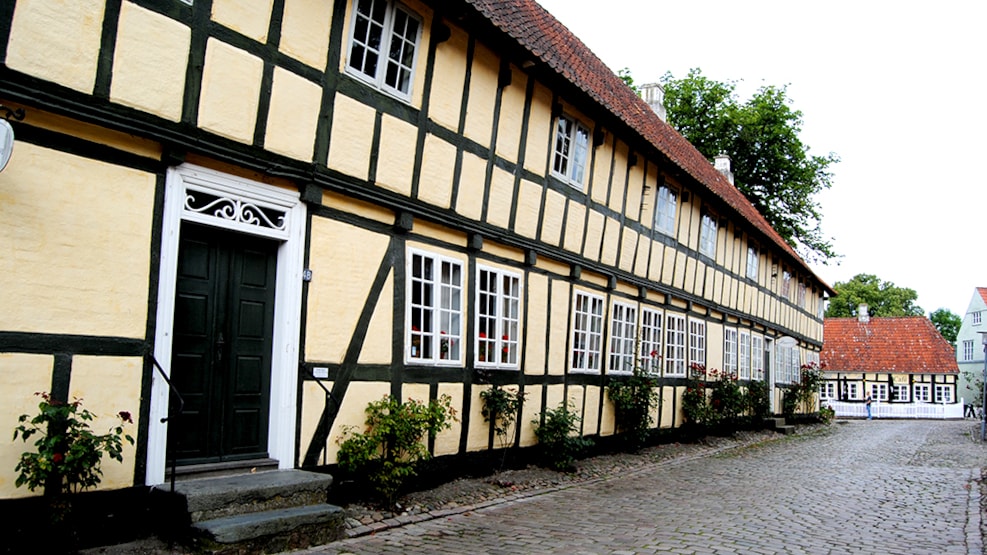 Mariager centrum
Mariager, also known as the City of Roses, is an idyllic town with cobblestone streets and old half-timbered houses adorned with roses. The town has a rare urban environment in Denmark. Everything unfolds at a relaxed pace through the old cozy streets. There are no facades; everything is preserved in its original style and still in use.
Mariager is also one of Denmark's smallest market towns. Until the beginning of the 15th century, Mariager was just a small fishing village and ferry stop on the road between Randers and Aalborg. The establishment of the Birgittine Monastery around 1446 led to a tremendous growth in trade and craftsmanship, and in 1592, Mariager was granted market town rights.
On the charming square, you will find the atmospheric Hotel Postgården, whose oldest building dates back to the 18th century. When strolling around the square on a lovely summer day, you can almost always enjoy the scent of freshly baked waffles from Vaffelbageren. If you desire a delicious ice cream served in freshly baked waffles, this is worth a visit.
The town's and region's history is also told at the Mariager Museum and can be experienced firsthand in the impressive Monastery Church. Visit the Klosterhaven (Monastery Garden) across from the church or the brand-new Rosenhave (Rose Garden) with hundreds of different types of roses, right next to the old Munkholm facility, which also features a lovely nature playground.
In relation to its size, Mariager is well-equipped with specialty and grocery stores, fine dining establishments, cafes, and good accommodation options, as well as numerous attractions and sights worth exploring.