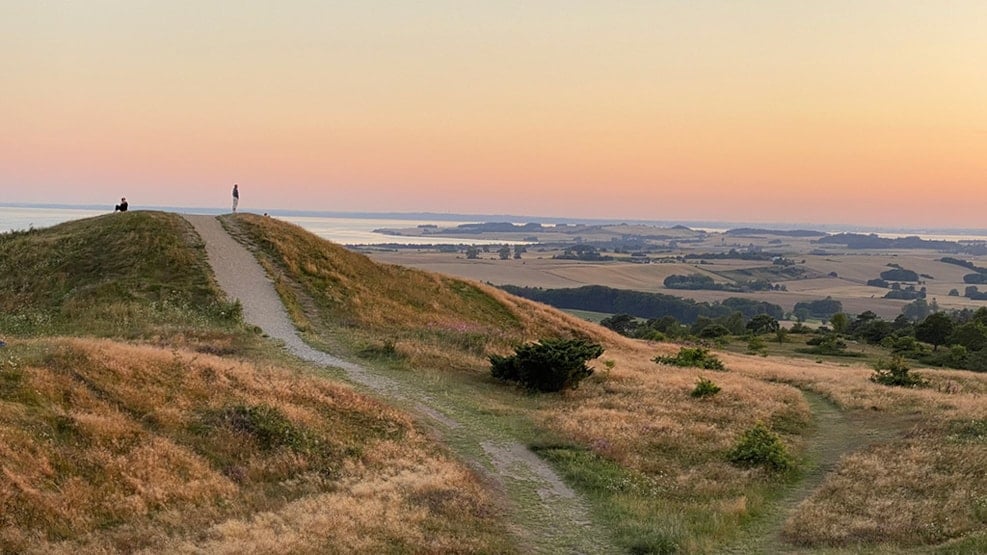 Mols Bjerge National Park
Mols Bjerge National Park in Denmark offers a fantastic and varied nature consisting of a large part of the Danish nature types, but also some of Denmark's rarest nature. Mols Bjerge is located on Djursland and its hallmark is the extraordinary Ice Age landscape, where humans have lived for millennia.
The nature in National Park Mols Bjerge
The landscape in National Park Mols Bjerge has been shaped by gigantic tongues of ice and tons of water over millions of years. Here, you will encounter a unique and diverse nature with high peaks, deep glacial pits, and rare sand lizards, and around 40 out of 200 conservation-worthy Danish nature types called habitat areas. Many of the Bronze Age mounds that are scattered throughout the landscape remain untouched by archaeologists, so we do not know what lies within them.
Cultural and historical experiences
The entire area in and around National Park Mols Bjerge is steeped in culture. Take a trip to the historic ruins of Kalø Slot, Poskær Stenhus, the burial mounds at Tustrup, and especially Ebeltoft's small streets with their cobblestones and beautiful hollyhocks.
Rare insects, animals, and plants
Because the national park encompasses so many different habitats, you will also find a range of rare insects, animals, and plants here. But you can also encounter quite ordinary cows, sheep, and horses in the area, which help to keep nature in check so it doesn't become a forest. For example, visit the bird tower at Stubbe Sø and experience the rich bird life here.
In National Park Mols Bjerge, there is room for exploration that creates an unforgettable holiday memory.
Participate in the many activities
National Park Mols Bjerge offers a host of exciting activities. Go on a hunt for amber, hike with a focus on Vikings, culture, and mountains, take part in a kayak course, be a hunter for a day - and much more. Or book your own guide and choose which type of experience interests you in the 180 km2 national park.
Book your activity here (danish).
View National Park Mols Bjerge on the web map
See what others are sharing on Instagram