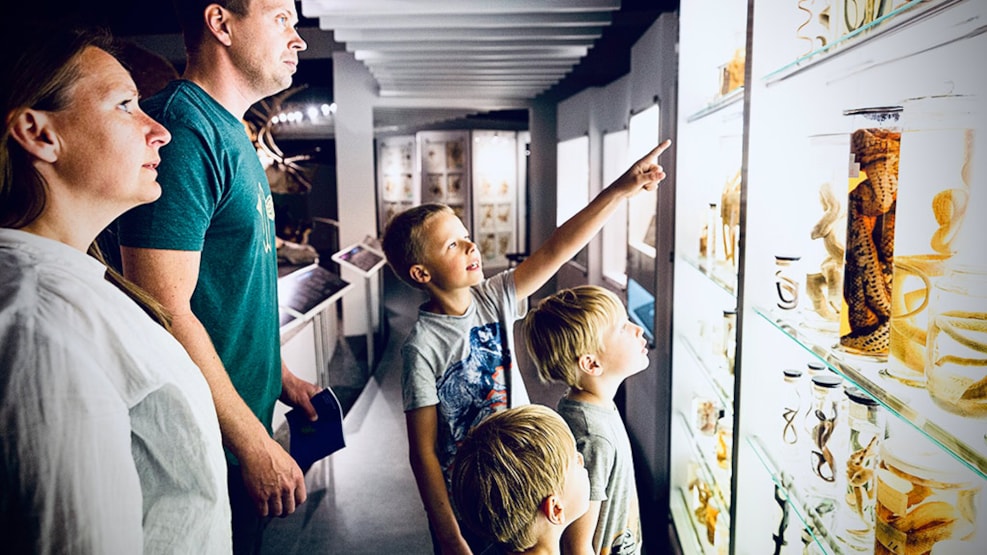 Natural History Museum
At Naturhistorisk Museum, the Natural History Museum in Aarhus you can experience the abundance of life inhabiting the earth. Experience the museum's four permanent exhibitions and changing special exhibitions. 
You can even get up-close to the animals on the African savanna or go time travelling through the Danish landscape from the Ice Age to the present day.
Fun activities for children
Be sure also to pop by the magnetic animal to see if you can assemble the skeleton correctly.
During all major school holidays there are many special activities on the bill. How about watching a live dissection, or touching a snake! Check out Facebook and the calendar on the website for what's going on.
Be sure not to miss The Global Backyard, an exhibition portraying the vast diversity of life on earth.
What is the Natural History Museum really?
This museum is the second largest of its kind in Denmark, both in terms of the size of its collections and exhibit space. The museum exhibition comprises more than 5,000 different animals from all over the world – many in settings displaying their natural habitats. The purpose of the museum is to promote research within the field of natural history and to make the public aware of the scientific results within this area. Visitors with disabilities can get around everywhere in the exhibitions.
The Molslaboratoriet Research Station
You can also pay a visit to the Molslaboratoriet research station located in the scenic Mols Bjerge area approx. 40 minutes by car from Aarhus. Even though it is a research station, you are still welcome to go for a stroll along the marked trails. You can borrow equipment for free to take with you out into nature to learn something new about lizards, stones, butterflies, and much much more.
The museum is closed December 24th, 25th and 31st and January 1st.
See what others are sharing on Instagram
#naturhistoriskmuseum #visitaarhus #visitaarhusregion

FREE ADMISSION FOR EVERYONE UNDER THE AGE OF 18