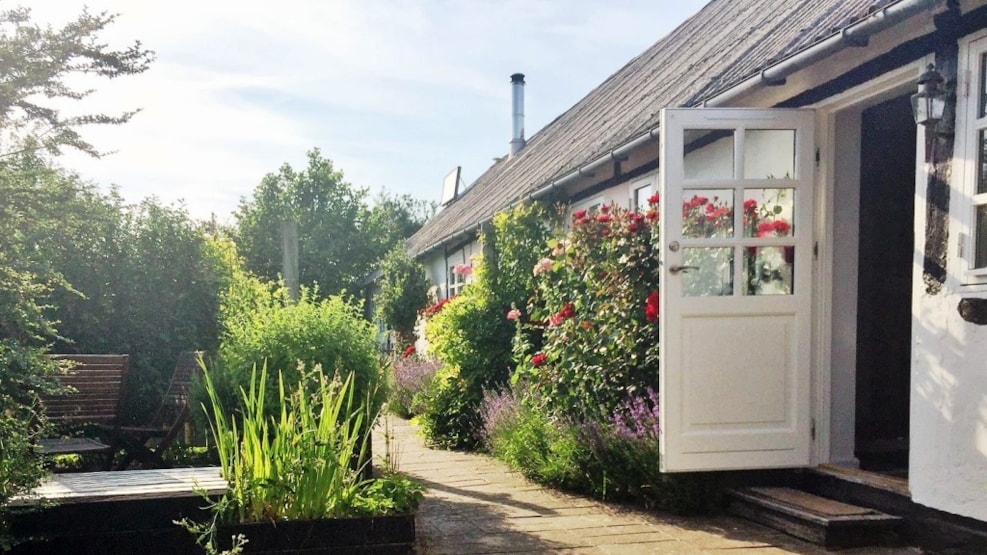 Oase Lyø - café and Bed and Breakfast
Farmhouse Vacation - Island Vacation in Paradise

Tired of work? Then we have just the right offer. This accommodation is located on the small dream island Lyø in Denmark, which can only be reached by ferry from Faaborg. Therefore, there are few cars on the island, which makes a leisurely stroll through the small streets a pleasure. Pheasants, hares and wild game accompany the hiker on his way. The old half-timbered house from 1849 is located on Revvej 5 and the road ends at Revet, a unique bird paradise. Every ornithologist is welcomed. As the island is only 6 km² in size, the sea can be seen from almost every vantage point on the island. At the harbor there is a popular swimming area with a sandy beach. In a side building there is a bar with a restaurant, where there is also a photo exhibition.

We offer a comfortable mix of peace and togetherness.

We provide all this with breakfast, cleaning, bed linen and towels. There are no stairs to climb because everything is located on the ground floor. We have 1 room and a caravan for rent. Bikes and books can be borrowed at any time. Unfortunately, animal husbandry is not allowed and smoking is only allowed outside the home. If you arrive by car, we also have a parking space at the house or the guest will be picked up by us from the ferry.

Now nothing stands in the way of a relaxing island holiday.

Prices include breakfast, cleaning, bed linen and towels

a double room max. 2 persons per night (including breakfast) € 113.00 DK 850.00
a double room max. 2 persons for 7 nights (including breakfast) € 750,00 DK 5.625,00

Please send us an email with all your requests, and we will send you an offer.