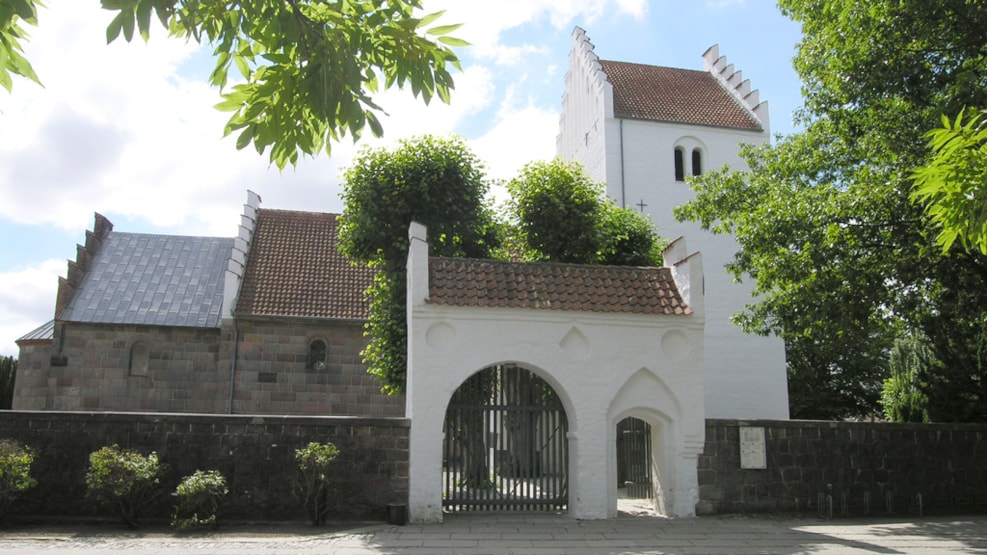 Odder Church
The main entrance to the churchyard is a imposing bricked portal probably built in the 15th century. The church itself consists of a chancel and nave from the late 12th century. An apse was added in 1868 and the porch and sturdily-built tower are late medieval.

In about 1693, the church was extended on the south side with the addition of a large private chapel for the then-owner of the church, admiral Jens Rodsteen and his relatives. The Rodsteen chapel contains a monument dating from c. 1706, where the carving and decorations were probably the work of pupils or colleagues of the most prominent sculptor of that time, Thomas Quellinus. Thomas Quellinus was also responsible for decorating a sepulchral monument in Århus Cathedral.

The church previously housed a so-called "gilded altar", but this is now in the National Museum of Denmark. This was replaced in 1640 by a magnificently carved altarpiece from the workshop of Peder Jensen Kolding.

The pulpit (c.1590-1600) has paintings of Christ and the apostles in the main panels, and paintings (1703) of various evangelists with their symbols in the pulpit staircase.

The pews were replaced during restoration in 1994, at which time several fragments of the 14th century frescoes were uncovered and a new Frobenius organ with 18 stops was installed on the balcony in the church?s tower space.

The Romanesque font with the remains of paint and gilding work is decorated with lion and cable motifs.