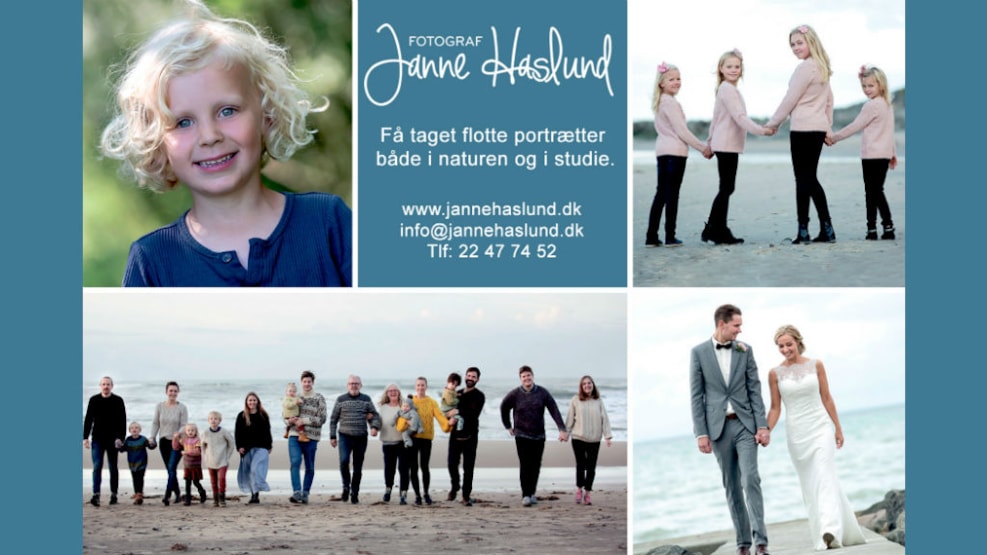 Photographer Janne Haslund
Janne Haslund is a professional photographer based in Lønstrup. Janne Haslund photographs both in nature and in her studio in Hjørring.
Thank you for considering to use me as your photographer.

My name is Janne Haslund. I live in the beautiful Lønstrup with my husband and two beautiful girls.

I love photography, it's my hobby and passion. I am trained as a photographer and was apprenticed to Allers In-House photo studio in 2001 and graduated in 2006. Here I received a broad education, where I photographed everything from jewelry to beautiful little children, from fashion shows and boudoir pictures product pictures everything from div. makeup product for golf clubs. It was a wonderful place to be educated as I was allowed to it all.

I have about 200m2 large photo studio on Vandværksvej 13 in Hjørring. It is not an ordinary photo studio, because I not only shoot on black or white background. I also super cool rustic and different backgrounds, which I love to use the pictures. It gives a different look to the images that I love.