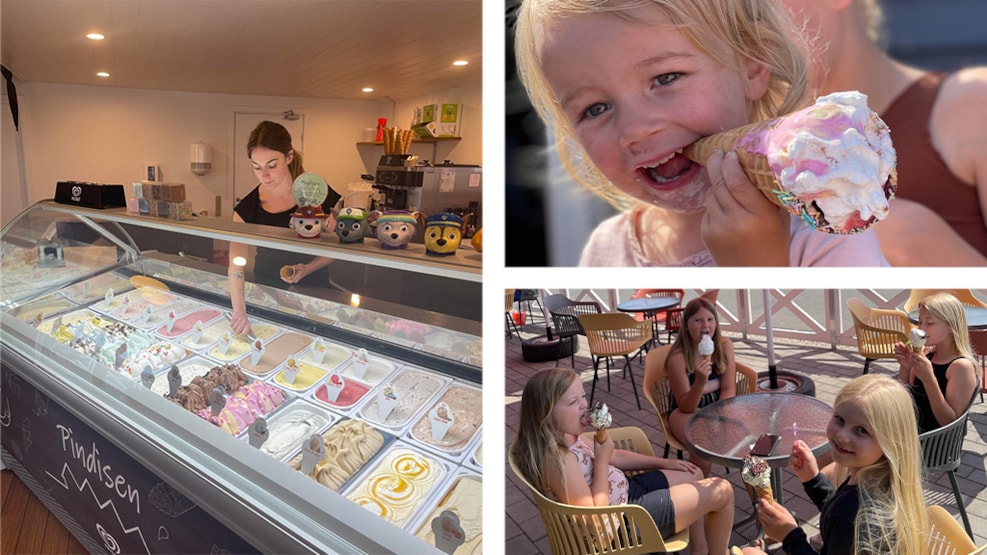 Pindisen - ice cream shop at Bagenkop Harbor
Forkæl dig selv og dem du holder af med en lækker is eller en omgang lune churros.
On the harbor in Bagenkop, there's an ambiance of maritime life and vibrancy. There's room here for both play and relaxation.
Pindisen
On the harbor sits Pindisen, always offering a wide selection of ice cream for every taste. If you fancy a good old-fashioned waffle cone, it's, of course, topped with airy whipped cream that's always freshly made.
The aroma of churros
Follow the sweet scent of freshly made churros. Pindisen fries churros on demand, and they're sprinkled with a delicious layer of crunchy sugar, topped with everything from sauce to soft serve. They make your mouth water and satisfy the worst hunger.
Softice
Softice is a must in a proper ice cream parlor. It comes in 3 variations and can be sprinkled with no less than 9 different types of toppings.
Pindisen has ice cream for every taste - whether you prefer gluten-free, lactose-free, or vegan ice cream and/or waffles, Pindisen has the perfect ice cream for you.