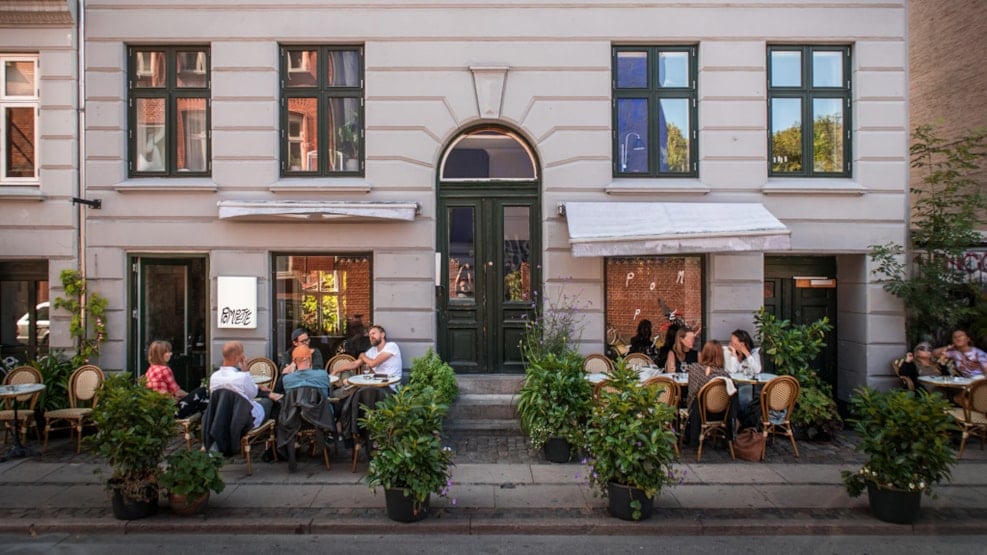 Pompette
Pompette means tipsy, and that's exactly what you can expect to get at this loveable neighbourhood wine bar which serves natural wine at prices that call for another glass.
The naked walls of the one-step-down wine bar mirrors the owners' approach to barkeeping: Pompette is a no-nonsense wine bar with nothing to hide and nothing to prove: Except the sympathetic fact that great natural wine can be served and enjoyed at reasonable prices - even in a cool bar in a popular part of town. With this concept, Pompette has quickly become a neighbourhood favourite.
Great wine at modest prices
After a long period of years in France both as a sommelier and even as a wine maker (for a short time at least) and an entire life in the industry as well as a whole lot of wine drinking, the owners Martin and Jesper decided to start their own wine bar in 2018. The simple concept: Make great wine available to everyone. Because as they say: "Serving cheap wine is easy. Anyone can do that. But serving great wine cheaply is another story."
This philosophy means that you can always find a simple selection of one red, white, rosé and orange wine sold by the glass at 50 DKK. And all bottles from their cellar are sold at double the cost price (which is really not a lot, in case you wonder!)
When hunger hits
Apart from bottles and glasses, Pompette serve up a simple range of charcuterie, cheeses and small, cold dishes including a nice burrata to go with the wine.
Pompette is one among many charming, little bars, cafés and eateries in Copenhagen's buzzing Nørrebro neighbourhood. Check out our Nørrebro guide for inspiration.