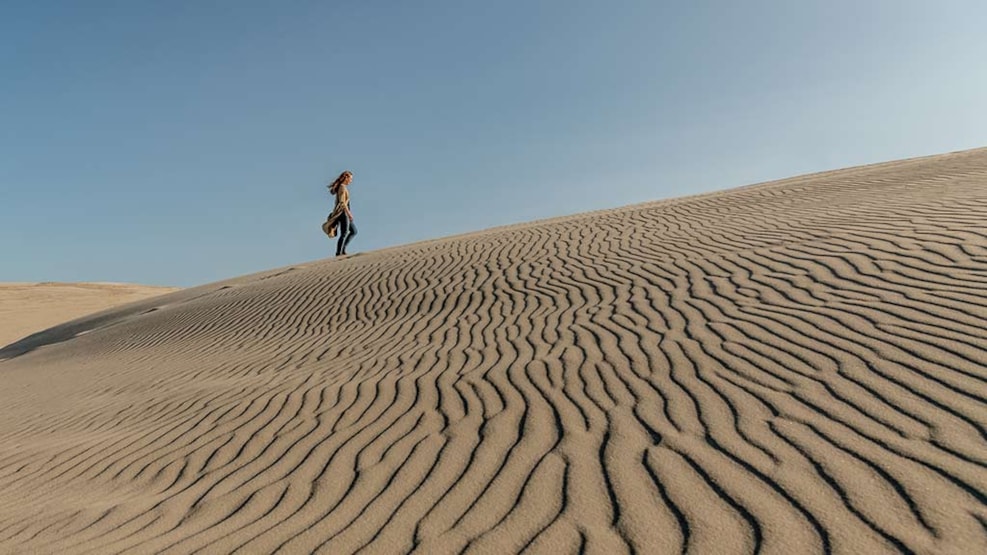 Råbjerg Mile
The Dune of Råbjerg Mile is the largest migrating dune in Denmark. You can't avoid sand in your shoes after a trip in the "mile", but in return you will be greeted by a sight you will not find anywhere else in Denmark's beautiful nature.
Info about Råbjerg Mile
The migrating dune, Råbjerg Mile, is about 1km wide and 1km long, it is made of roughly 3,5 million m3 sand, and is 40 meters high. Each year the dune moves around 15 meters towards the Northeast, closer to Grenen, the top of Denmark. Attempts of afforestation did not stop the migrating dune, which is expected to cover the main road to Skagen in a century or two. Once the dune reaches an area with trees or other plantations, it takes approximately 40 years for the tree to re-emerge on the other side of the dune. The same goes for the "small lakes", indentations caused by the varying groundwater level. These lakes are in the beginning poor on nutrition and vegetations but after some time the plants are coming back.
Råbjerg Mile on sand migration
Behind the "mile" it leaves a small and moisty layer of sand that extended west out to Skagerak where Råbjerg Mile was formed more than 300 years in a landscape called Råbjerg Stene.
The whole area near Skagen was affected by sand migration with sand coming from the west. Entire areas were covered in sand as the dunes formed and therefore destroyed the opportunity to cultivate the land. The inhabitants were forced to move after a difficult fight with the sand, where the sand-covered church is a proof of the fight and struggle. The church was in the end swallowed and covered by the sand. Today, only the church tower is visible and there is planted lyme grass and conifers to slow down the sand migration.
Despite this, the area is nowadays under protection and owned by the state after strong protests from for example Jeppe Aakjær who was dissatisfied as the plantations (which should stop the sand migration) destroyed many beautiful nature areas.
Attention: While hiking through Råbjerg Mile there can be a risk of walking into quicksand!
Travel sustainably with bus and train in North Jutland
Getting around North Jutland with public transport is effortless. Plan you trip with bus, train or 'Plustur' on rejseplanen.dk.