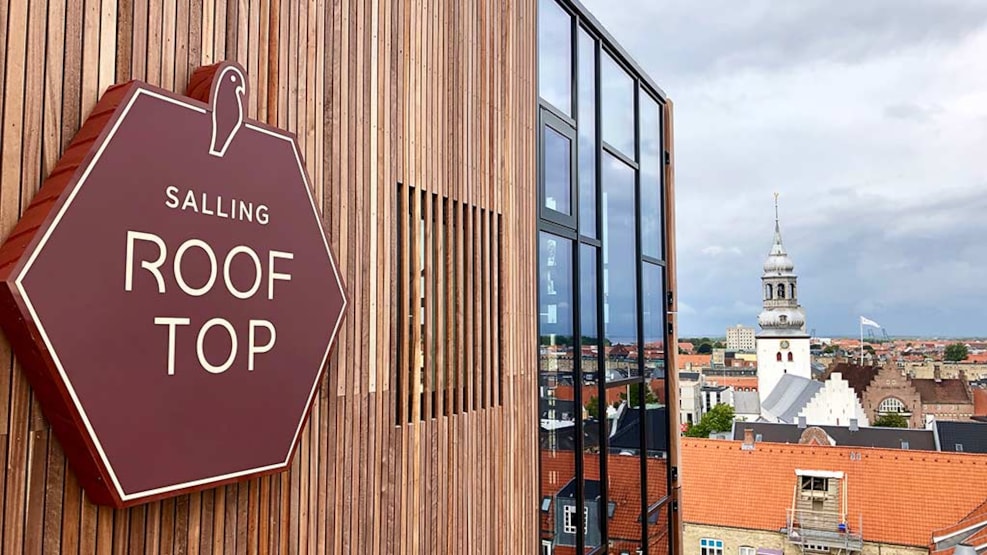 Salling ROOFTOP Aalborg
The outstanding success by Århus Salling ROOFTOP has now crawled north and is now to find in Aalborg. Above the department store, you can know lounge on the terrace and enjoy specialties from the café.  
Salling ROOFTOP is definitely worth a visit, whether you enjoy good food, cocktails or just enjoy a fine view. The 1400 square meter large terrace area is divided into two levels, which both can seat about 500 guests. The guests can either settle in the cosy lounge area, relish a drink in the Skybar or eat a meal at Café Væksthuset.
Skybar and Café
The very top level of Salling ROOFTOP offers cosy lounge areas and a skybar, which offers cocktails, wine, and tapas among others. On the level below, you come across the café Væksthuset, which besides the amazing view of the city and the Limfjord offers delicious food all day long. You can find their menu here. 
Hair-rising Skywalk
Another thing that Salling ROOFTOOP in Aalborg has drawn on from Århus is their Skywalk. The Skywalk in a glass ramp, which protrudes from the building, elevated more than 30 meters above ground, from where you have a staggering view on the street below. Even fearless people, swearing they do not fear heights have to take a deep breath before venturing out on the ramp. Challenge your friends and family to dare onto the ramp, and you can soothe your nerve with a drink either before or after.  
Events on Salling ROOFTOP Aalborg
Until 27th of September, 'Friday on the Top' will take place every Friday between 4 pm – 7 pm, where you are given the opportunity to kickstart your weekend with DJs and cocktail. Keep posted on the different events which take place on Salling ROOFTOP on their website. Furthermore, Salling ROOFTOP has the same opening hours as the department store, and it is free to visit the rooftop.
read more about Salling ROOFTOP in Aalborg...