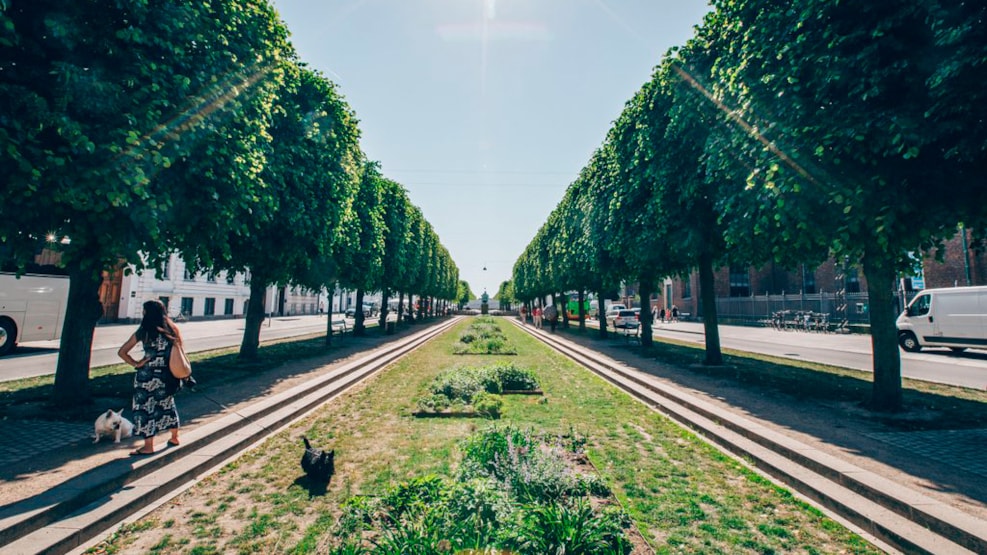 Sankt Annæ Plads
Sankt Annæ Plads is a green space in the middle of the city – in more than one sense.
The old square of Sankt Annæ Plads has been a part of the city center since the 1700. Back then it was the station from which the first horse-driven trams ran, but today it's a green space of great livability for both locals and tourists in the city.
Sankt Annæ Plads is located just next to the Danish royal family's winter residence Amalienborg Palace, just a few minutes' walk from popular Nyhavn and the city center. With the renovation of the square both locals and tourists has gained a beautiful, green space with more than one purpose. Not only is the square a great space for relaxation, togetherness and fun. It's also a part of the citys future-oriented plan to protect both people and buildings if a cloudburst should occur.
With the ever-changing climate Copenhagen has had to face some mayor cloudbursts throughout the last ten years, and it has left the city facing new challenges when it comes to preserving and protecting especially the buildings. Back in 2011 a cloudburst caused Sankt Annæ Plads to be filled with water with lightning speed, damaging the surrounding buildings massively. To prevent this from happening again, Sankt Annæ Plads is now lowered, and re-built with drains to lead the water into the harbor and away from the streets. It's all a part of the more than 300 projects in Copenhagen which will ensure minimal damage in case of further climate change and even more extensive rainfalls.
The second perk of the renovation of Sankt Annæ Plads is the upgrade of the livability it has gotten. Now people can both play and sit at the square, enjoying both green scenery and the buzzing everyday life of the city. With benches, a playground and a petanque field there's something from everyone. The street has even been narrowed down, ensuring slower and less traffic, and opening up for cafes and restaurants to expand their outdoor serving using the now broader sidewalks. It's truly a wonderful example of how climate enforcement is done beautifully, practical and with the usability for the locals in mind.