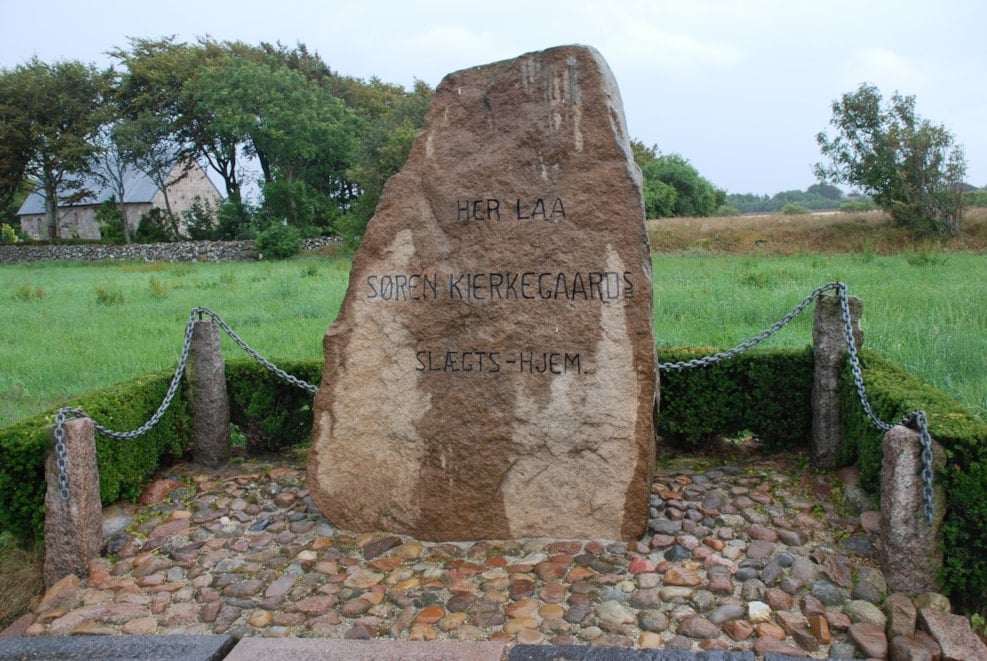 Søren Kierkegaard Monument
Søren Kierkegaard's memorial stone stands in memory of Kierkegaard's grandfather and grandmother, who lived on a farm behind the church in Sædding Parish. The stone has a fantastic historical value, as it is from here that Kierkegaard's surname originates, among other things.
Behind Sædding Church you will find Søren Kierkegaard's memorial stone. Søren Kierkegaard was a famous Danish theologian and philosopher who lived most of his life in Copenhagen.
However, his family's hometown was West Jutland, and his grandfather and grandmother lived on a farm in the West Jutland parish Sædding behind the church, a little north of Skjern. It is also from there that the surname Kierkegaard voices. Søren Kierkegaard's father Micheal Peder Kierkegaard traveled from Sædding to Copenhagen, where he became a hosier.
Unfortunately, the farm does not exist today, but a large memorial stone can be seen on the site where the farm was located.
The stone is about 2 m high, and about 40 cm wide. On the stone is written "Her laa Søren Kierkegaards slægts-hjem." The stone on a two-step high foundation, and is clad with hand-sized natural stone. The edges of the steps consist of elongated hewn stones, and the stone is surrounded by an approximately ½ high hedge. In this context, hewn stone blocks stand together held together by an iron chain.