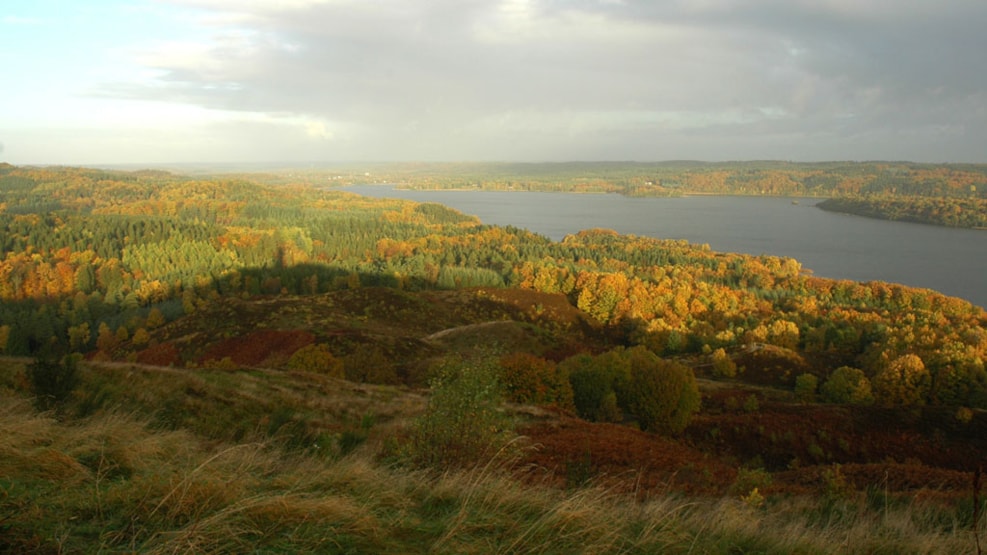 Storeknøs
The view from Storeknøs is quite unique and simply one of the best "Søhøjlandet"/the Seahighlands has to offer. 
The history
When hiking around Storeknøs, you walk in a circle - in that way you can decide if you want an easy route (not too steep) or a more steep route - depending on which way of the circle you go. No matter which route you take, you will be rewarded with a breathtaking view.
From 1900-1966, there were small restaurant at Storeknøsen. In the beginning it was a small pavilion in a "swiss-style", later there was built a larger and new builing for the restaurant. Today, the former restaurant is a private residence, but you are welcome to stop and enjoy the view. Use the marked path around the edge of the garden, and please remember that you are on private land, where you are not allowed a longer stay.
Storeknøs lies in the region, that is also known as Glarbo (Glar means "glass"). Here the king made ​​both glass and drinking glasses in the last decades of the 1500s. South of Storeknøs you will find a reconstructed glass furnace.
See what others are sharing on Instagram