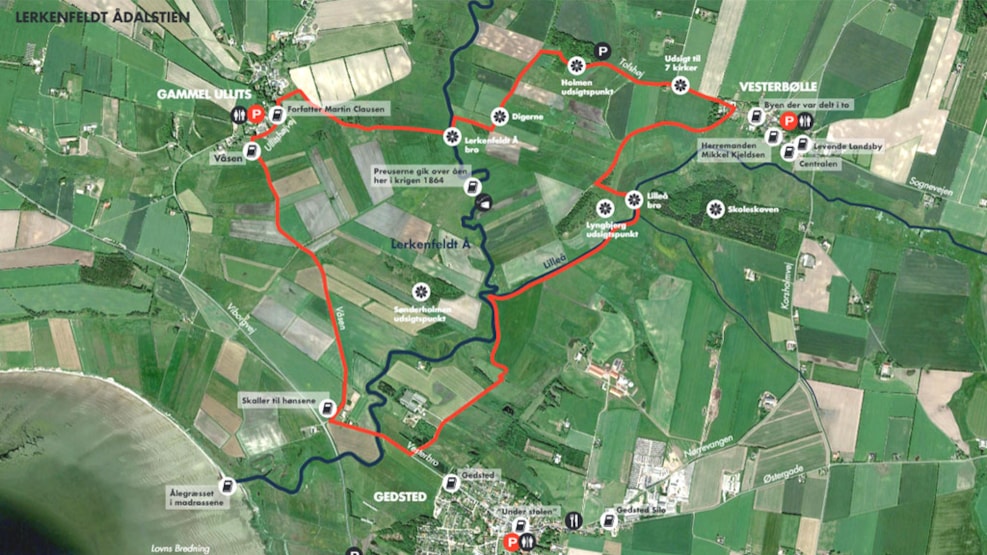 Stream Valley of Lerkenfeldt
Take a trip through Lerkenfeldt Ådal and experience 3 of Denmark's coziest villages.
Lerkenfeldt stream meanders for 38 km from Mejlby west of Rold Forest to Lovns Bight. Just before its outlet into Lovns Bight, the stream passes closely by the villages of Gl. Ullits, Vesterbølle, and Gedsted. Life in these three villages has been closely tied to Lerkenfeldt stream for centuries. A new trail, Lerkenfeldt Valley trail, now allows residents and other interested individuals the opportunity to experience both the stream and the valley - and thus, the villages - up close.
Lerkenfeldt Valley trail connects the three villages and traverses some of the most beautiful and interesting spots along Lerkenfeldt stream. Here, you'll find stunning views, entertaining stories, abundant wildlife, diverse landscapes, a unique cultural history, captivating village environments, and tranquility.
The Dykes
Many of the well-preserved earth dykes in the area between Gl. Ullits, Vesterbølle, and Gedsted are over 200 years old. These dykes typically enclosed cultivated areas or served as boundaries between plots of land in the region. In 1978, the former conservation council wrote about the dykes, stating that they should be preserved intact from both cultural and agricultural-historical, as well as landscape-aesthetic perspectives.
Is there a pig buried here?
On Vesterbølle Cemetery, the landowner Mikkel Kjeldsen from Lerkenfeldt is possibly buried - maybe! He died suddenly after being accused of killing a laborer, risking hanging for murder. His sudden death fueled rumors that he had a pig buried in his place. These rumors were reinforced when he was occasionally seen in the castle garden around midnight. So, is there a pig buried here?
Lerkenfeldt Valley Trail
Lerkenfeldt Valley Trail aims to raise awareness of the unique natural and cultural landscape in the valley, provide opportunities for exciting outdoor experiences, and strengthen the community among the local villages. The project is financially supported by LAG, the Danish Outdoor Council, Vesthimmerlands Municipality, and local foundations and banks.
The approximately 10 km marked circuit between the villages of Gl. Ullits, Vesterbølle, and Gedsted takes you through a magnificent and diverse landscape featuring islands, streams, dykes, fields, and meadows. Depending on the season, there are excellent chances to encounter kingfishers, mallards, nightingales, herons, roe deer, and many other animal species in the valley. Lerkenfeldt Valley Trail passes through an area rich in stories about the landscape, wildlife, flora, and most importantly, the people in the region - both past and present. Here, you'll find stories about a buried pig, Prussian soldiers, old dykes, and a modern goat.