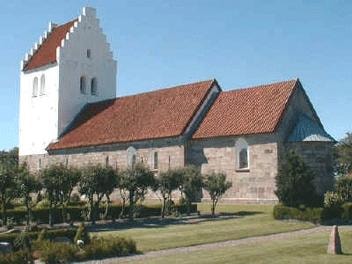 Tømmerby Church
The village church Tømmerby Church in Thy is especially known for its unique location at Selbjerg Vejle and for its granite works: reliefs and faces on the outside of the apse, tympanum and stele in the porch.
Tømmerby Church was built in the years 1130-1140.
The Saint Budolfi source is located next to the church.
Tømmerby Church was built in the years 1130-1140. The choir and the nave are built in Romanesque style. The porch and tower were built later in the late Gothic style.
The apse is adorned with reliefs on six of the squares. On each side of the east window sits a human head. The head to the north is coarse, while the head to the south is more refined. Furthermore, there is a lion, a hunter, a basilisk and a deer attacked by a dog. The stones do not sit in the original place.
The original north door is preserved in the porch. Its tympanum (superstructure) has the image of a dragon. The corresponding tympanum above the bricked south door shows the crucifix (now Lild church). It is no coincidence that the dragon faces north. From there, everything hurts. The crucifix, a Christ symbol, belongs to the south.
The church's Romanesque choir arch is preserved. The original altarpiece consists of a granite slab on four columnar legs. The plate is carved in one stone. In the middle of the altar table is a so-called saint's tomb, which was previously closed with a blue stone tile. The shrine tomb contained a lead capsule with relics from the church saint (Sct. Botulf).
The altarpiece, which previously stood on the old altar, is from approx. 1600 with painting and staffing from 1736.
The baptismal font is also the original. On the foot is a motif from Aesop's fable about the stork and the fox. The pulpit is made approx. 1600.
In the tower room is a Romanesque stele from approx. 1200. The stone, which may be the gable stone of a larger tomb monument, bears the image of a face and an upright arm, and according to the Latin inscription "the right arm of God."
In the porch stands another peculiar stone. Some believe it is a tombstone others a phallus.
Some attribute the stones and many features of Tømmerby Church to Celtic background. Source: Thisted Provsti.

Sankt Budolfi Kilde is located next to the church.