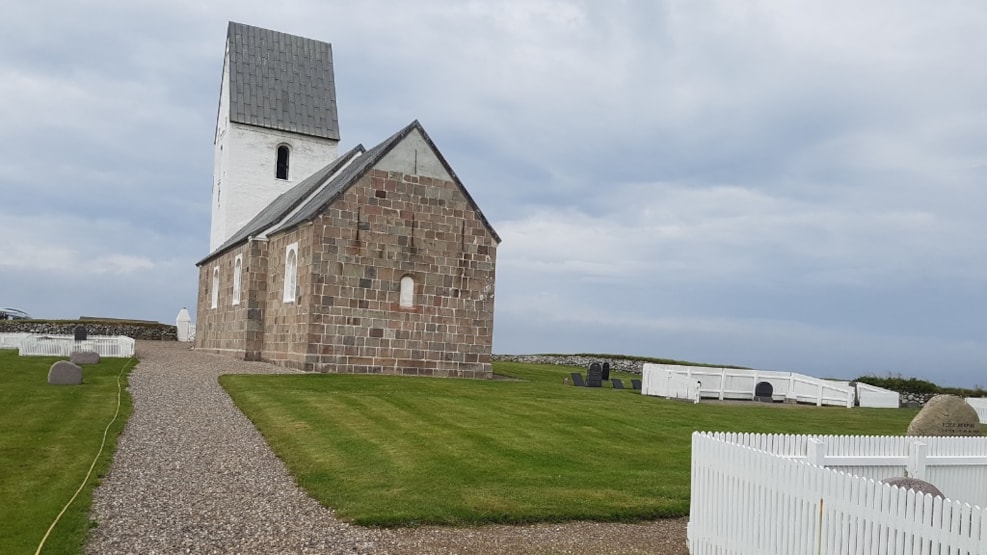 Trans Church
The village church Trans Church is located on the edge of the sea.
Once it was in the middle of a parish, but the sea made its cut and took half of the parish.
Today, Trans Church is located less than 100 meters from the North Sea immediately north of the last ice age main residence line.
It is estimated that in the past about 1 meter of the coast disappeared each year, so the coast may have been about 1 kilometer further west when the church was built in the 12th century.
The present church is not the first on the site. When the church was restored 25 years ago, traces of at least 2 older wooden churches were found under the church floor.
Remains of the wooden churches that were built before the current Romanesque stone churches have been found in only a few places in the country. In West Jutland, archaeologists have found remains of the wooden churches under Trans Church and under Vorgod Church near Videbæk.
Trans Church is a nearly 900 year old boulder church. The cemetery has few graves, which are surrounded by white fences.
The National Museum has found the remains of an 8 meter long wooden church and a square bell house.
In addition, 35 tombs from the time of the wooden church were excavated. One of Svend Estridsen's rare rune coins with an eyelet was found in one of the graves.